William A. Thornton, longtime historian for Richmond Crusade for Voters, dies at 93
5/27/2018, 9:44 a.m.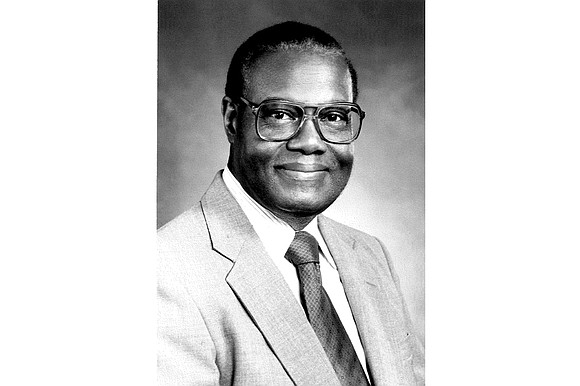 William Armstead Thornton always was considered the indispensable dependable man at the Richmond Crusade for Voters, his church and other organizations in which he participated.
Known as "Bill" to friends, he maintained the records and history of the Crusade, Richmond's oldest and largest African-American political organization, dating back to its founding in 1956. He was a stalwart for years in the group's efforts to register people to vote.
Still, the longtime insurance executive was always the second William Thornton in the group and regularly had to remind people that his middle initial was "A" to avoid confusing him with one of the Crusade's founders, Richmond podiatrist William S. Thornton, who died in 1999. The two men were not related.
Mr. Thornton and his multifaceted service is being remembered after he succumbed to illness on Sunday, May 6, 2018. He was 93.
His life will be celebrated 011 a.m. Saturday, May 26, at Fifth Street Baptist Church, 2800 Third Ave., where he was a longtime deacon and for years served as the volunteer director of the church's credit union before it became part of the Virginia Credit Union in 2011.
The Rev. F. Todd Gray, the church's pastor, will lead the service.
Mr. Thornton also was a former treasurer for the Baptist General Convention of Virginia, one of the major associations of black churches in the state.
He also served for years on the Richmond Personnel Board, which hears grievance appeals from City Hall employees and also considers workforce policies.
"He was a man of integrity, who spoke plainly and directly to make a point," said his niece, Lori Lola Hunter. "But he also was a man of humor. He easily made friends and was known for making a joke to open conversations with people he just met. Levity and honesty were his trademarks."
Born in Jackson Ward in 1924, Mr. Thornton and his family struggled during the Great Depression. He survived after he was placed in a special feeding program that was operated for children who were malnourished, Ms. Hunter said.
After graduating from Armstrong High School, he began college studies at Virginia Union University, but left after being drafted into the Army during World War II.
After completing his military service, he used the G.I. Bill to complete his bachelor's degree with honors at Howard University in Washington.
Mr. Thornton spent his career with the Richmond-based Southern Aid Life Insurance Co., rising to district manager and vice president before retiring when the company was sold to Atlanta Life in the late 1980s.
He also was a member of the NAACP, the Astoria Beneficial Club of Richmond and Alpha Phi Alpha Fraternity.
He outlived his brother and two sisters. There are no other immediate survivors.