RRHA begins major move to turn over public housing to private interests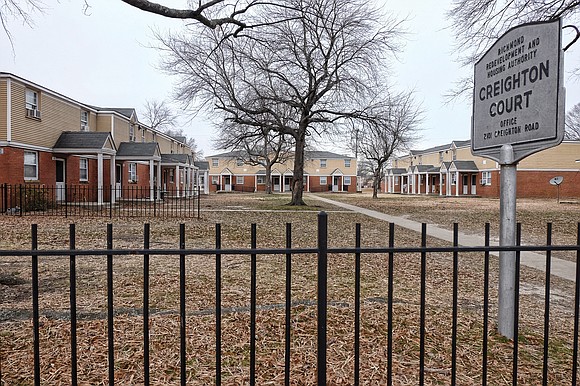 "All of the 11 properties are to be rehabilitated," he said, pledging there would be "no demolition."
He said the amount of rehabilitation would vary and would range form replacing roofs and heating systems to installing modern windows.

Mr. Artze said RRHA also will be moving ahead with plans for the big six complexes — the properties with hundreds of units, including Creighton, Fairfield, Mosby and Whitcomb courts in the East End, Gilpin Court in Jackson Ward and Hillside Court in South Side.
Within the next few weeks, RRHA would send requests to HUD to transfer ownership to RRHA as the first step to find buyers willing to take majority ownership.
He said HUD would require RRHA to work with the private partner and residents to come up with a plan for modernizing the property.
Mr. Artze said that likely would include a combination of renovation and/or replacement of the most deteriorated units and potential construction of new affordable units.
He said that the previous vision of demolishing and completely replacing Creighton with "an entirely new community" would stretch out the work.
"The only way to fund that kind of ambitious undertaking would be to secure tax credits," but he said that it would take at least five years to accumulate. "We realized that if we did a complete redevelopment of Creighton, we would not be able to do any redevelopment in any other of the big six," he said.
That is why he has led an effort to modify the original approach to make renovation of existing apartments a key element, as he indicated to the Free Press two weeks ago.
Overall, Mr. Artze said that public housing residents ultimately will have more housing options, with the prospect of living in modernized apartments in their current communities or moving to new or renovated apartments in Richmond or the suburbs.
He said as part of the redevelopment of Creighton Court, 24 families are being selected to receive vouchers to move to private complexes willing to accept RRHA vouchers. He said 18 families will move to the new Kingsridge apartment complex that recently opened in Henrico County, while six other families will move to the Better Housing Coalition's new Goodwyn on Union Hill apartments in Richmond after it is finished in the spring.
Mr. Artze said RRHA has signed up more than 11 different developments in the Richmond area willing to accept vouchers, and he said that up to 130 families could get the choice of relocating over the next two to three years.
The bottom line, Mr. Artze said: "Public housing must look to other sources. We need to recapitalize" if public housing is to be brought up to modern standards.