Stacey Abrams to file federal lawsuit in wake of Ga. gubernatorial loss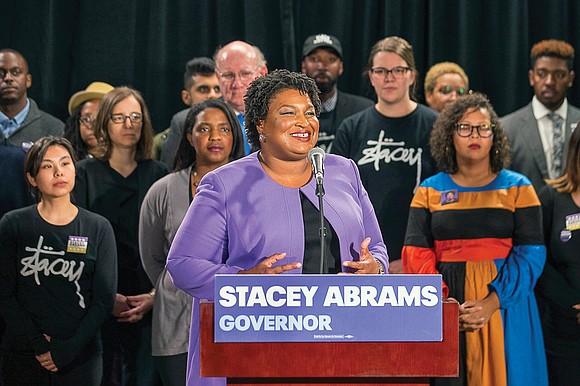 ATLANTA
Stacey Abrams broke the rules of politics until the very end.
The Georgia Democrat, who came about 60,000 votes shy of becoming America's first African-American female governor, refused to follow the traditional script for defeated politicians who offer gracious congratulations to their victorious competitor and gently exit the stage.
Instead, Ms. Abrams took an unapologetically indignant tone that established her as a leading voting rights advocate.
"I acknowledge that former Secretary of State Brian Kemp will be certified as the victor in the 2018 gubernatorial election," Ms. Abrams said in a fiery 12-minute address. "But to watch an elected official ... baldly pin his hopes for election on the suppression of the people's democratic right to vote has been truly appalling."
"So let's be clear," Ms. Abrams concluded, "this is not a speech of concession."
Pointedly refusing to concede would typically risk drawing a "sore loser" label that would be impossible to shake in any future political campaign. But Democrats and even some Republicans expect Ms. Abrams to emerge from the closely fought governor's race with her political future on solid ground.
Ms. Abrams already has her next step: She plans to file a federal lawsuit to challenge the "gross mismanagement" of Georgia elections, likely in early 2019.
Ms. Abrams cited a litany of problems that she said add up to systemic voter suppression. She specifically pointed to absentee ballots thrown out by what she called "the handwriting police;" a shortage of paper ballots to back up broken-down voting machines; and Georgia's so-called "exact match" voter registration rules that required information on voter applications to precisely match state and federal files.
Because Georgia law allows "no viable remedy," she said she is working with others to prepare the federal lawsuit to challenge the system that Mr. Kemp oversaw until he resigned as secretary of state two days after the Nov. 6 election. She also launched the new nonprofit group "Fair Fight Georgia" to advocate for changes.
Some Republicans wish she would take her case to the Georgia legislature. Debbie Dooley, a Georgia-based activist who was among the early national "Tea Party" leaders, said that "there are a lot of people on the Republican side who see a need for some of the reforms she wants."
Georgia Democrats said Ms. Abrams has little choice but to continue highlighting problems.
Ms. Abrams did not say what her next bid for public office would be, but has made it clear she's not bowing out. Her next chance in Georgia would be to challenge Republican Sen. David Perdue for his seat in 2020.