Diana Ross slays as headliner of Macy's Thanksgiving Day Parade
11/29/2018, 6 a.m.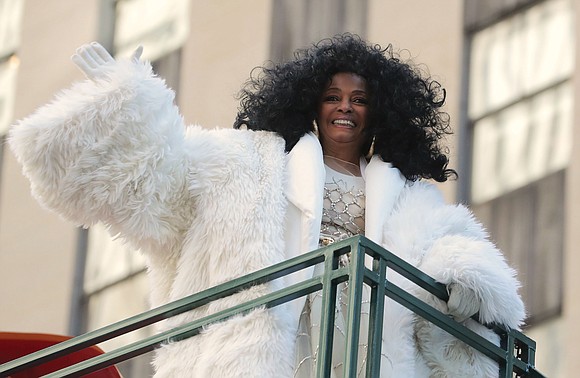 Frigid weather and blustery winds didn't chill the enthusiasm at the 2018 Macy's Thanksgiving Day Parade, where spectators bundled up in blankets and sleeping bags and the giant character balloons flew lower than usual.
Headliner Diana Ross, 74 and slaying as her free-flowing hair spilled over her white quilted, fur-lined coat, performed a rendition of Paul McCartney's "Wonderful Christmastime" from atop the Hallmark Channel's Advent calendar-themed float.
With her on the float in warm white coats were family members, including daughter Tracee Ellis Ross, star of ABC's "Black-ish," and actor son Evan Ross and his wife, Ashlee Simpson.
Later, the family posed outside the Diana Ross Playground in Central Park, where fans and pros snapped their photos.
Nov. 22 was one of New York City's coldest Thanksgivings for the parade that started in 1924. According to the National Weather Service, the temperature peaked at 27 degrees. The coldest on record was in 1871, when the warmest it got was 22 degrees.
Because of the cold, Ms. Ross and other singers on the parade lineup lip-synced to the music. They included Ella Mai and Kane Brown, Anika Noni Rose, Bad Bunny, Pentatonix, Sugarland, Barenaked Ladies, Leona Lewis, Fifth Harmony's Ally Brooke, Bazzi, Ashley Tisdale and Carly Pearce.
Macy's later apologized for "technical difficulties" after viewers ripped into singer Rita Ora for what they saw as awkward lip-syncing.
The British artist appeared out of sync with the vocals that viewers heard during parts of her televised performance of "Let You Love Me," and the episode sparked a flurry of online commentary.
Macy's apologized via Twitter, saying "several recording artists experienced technical difficulties that negatively impacted their performance" and were beyond the performers' control.
Ms. Ora tweeted thanks to Macy's for "the honesty."
In another moment that got attention, a performance from the Broadway musical "The Prom" included a kiss between two female cast members. The producers told Entertainment Weekly it was the parade's "first LGBTQ kiss."
SpongeBob, Charlie Brown, the Grinch and other big balloons that are crowd favorites at the parade were cleared for takeoff just before the start, although some floated at noticeably lower-than-usual heights above the people holding their tethers, like the outstretched hand of the "Diary of a Wimpy Kid" balloon that appeared to hit some of his handlers on their wool cap-covered heads.
Officials had been ready to order the 16 helium-filled balloons to a lower altitude or removed entirely if sustained winds exceeded 23 mph and gusts exceeded 34 mph. There have been mishaps and injuries in the past when gusts blew them off course.
Bystanders refused to let the cold put a damper on watching the parade, breaking out blankets and sleeping bags to watch the balloons, bands and floats go by.
The parade runs 46 blocks, from the west side of Central Park to Macy's flagship store in midtown Manhattan. It features about 8,000 marchers, including high school bands from across the country, and two dozen floats, culminating with the arrival of Santa Claus.