Penn State Coach James Franklin on course to win NCAA title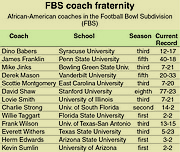 Coach James Franklin is in position to make history one day. It possibly could happen as early as this season.
The talented Penn State coach seems a strong bet to become the first African-American coach to win an NCAA collegiate football title on the highest level.
Coach Franklin, 46, is a top contender among the 13 African-American coaches in the 130-school NCAA Football Bowl Subdivision, formerly known as Division 1A.
After starting the season 4-0, Franklin's Nittany Lions lost a brutally fought 27-26 game to Big Ten rival Ohio State University last Saturday before a crowd of 111,000 fans in State College, Penn.  
Ohio State and Penn State are bona fide juggernauts and each eventually could play — possibly in a rematch — in the NCAA's National Championship Playoffs in December and January.
The Nittany Lions likely will need to run the table the rest of way, however. There is little wiggle room in squeezing into a four-team format that will conclude Jan. 7 in Santa Clara, Calif.
At worse, Penn State figures to play in one of the higher profile bowl games, such as the Rose Bowl, the Sugar Bowl or the Fiesta Bowl. The Cotton and Orange bowls will serve as playoff semifinal sites.
Coach Franklin, a native Pennsylvanian, was the record-setting quarterback at East Stroudsburg State University before hopping into the nomadic coaching profession.
While some men stay at the same job much of their adult lives, coaches rarely let any dust gather on their suitcases. Coach Franklin is no exception, having served as a coaching assistant at Kutztown State, East Stroudsburg, James Madison, Washington State and Idaho State universities, the University of Maryland on two occasions, with the NFL Green Bay Packers and at Kansas State University before getting his first head coaching job in 2011 at Vanderbilt University, which is considered among the nation's premier academic campuses.
At Vanderbilt, Coach Franklin went 40-18 in the rugged Southeast Conference before landing the coveted post at what Nittany Lions fans call "Happy Valley." His current annual salary is $5.6 million.
Penn State won national titles in 1982 and 1986 under former Coach Joe Paterno.
Something missing from Coach Franklin's extensive résumé is any mention of coaching at historically black colleges and universities. In fact, none of the 13 African-American head coaches at FBS schools have any HBCU experience. Also, none of the 13 played at HBCUs. That is in contrast to the first African-American coach at the top tier schools.
In 1979, Willie E. Jeffries was named head coach at Wichita State University of the Division 1A Missouri Valley Conference. Coach Jeffries went 21-32 at Wichita from 1979 to 1983.
Coach Jeffries played at South Carolina State University and was head coach at his alma mater before moving to Wichita. After leaving Wichita, he later coached at Howard University before beginning a second stint at South Carolina State, where the team faced Virginia Union University several times.
There have been African-American head coaches on national champion teams in lower divisions.
In 1978, Coach Rudy Hubbard guided Florida A&M University to the first NCAA 1-AA title — now called FCS. In 2008, Coach Mike London led the University of Richmond to win the FCS crown.
Coach London, who used that success to earn a head coaching job at the University of Virginia, is now in his second season at Howard University.
In 1990 and 1992, former NFL running back Billy Joe coached Central State University in Wilberforce, Ohio, to NAIA titles. Central State won again in 1995 under Coach Richard Comegy.
HBCU coaches do not seem to be on the front burner for any positions at FBS schools. There are various theories why. The NCAA Division II HBCUs have fared very poorly in postseason play, with the exception being Winston-Salem University's drive to the 2012 NCAA Division II finals.
The two FCS conferences made up largely of HBCUs, SWAC and MEAC, have eliminated themselves from NCAA postseason play in favor of the Celebration Bowl. This may deny those coaches some national exposure.