N.C. A&T wins Celebration Bowl
Fred Jeter | 12/21/2018, 6 a.m.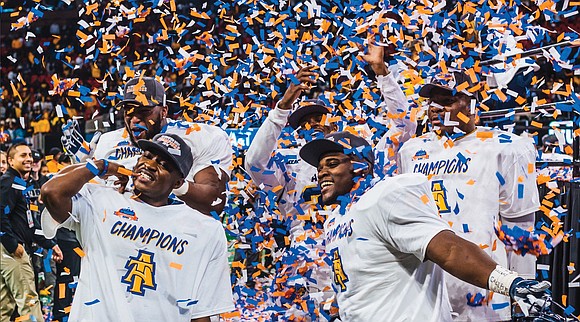 The crown for black college football will rest with North Carolina A&T State University in Greensboro, N.C., at least until December 2019.
It's becoming a tradition.
For the second straight year and the third time in four years, the Aggies have claimed the de facto HBUC football title, this time with a 24-22 win last Saturday over Alcorn State University of Mississippi in the Air Force Reserve Celebration Bowl.
The game was played before a crowd of 31,672 fans and supporters at Mercedes-Benz Stadium in Atlanta and before a national television audience on the ABC network.
The annual Celebration Bowl matches champions of the Mid-Eastern Athletic Conference and the Southwestern Athletic Conference, with $1 million going to each of the historically black athletic conferences in Division I-FCS.
MEAC and SWAC officials decided to send their championship teams to the Celebration Bowl rather than contend for the NCAA FCS playoff honors.
North Carolina A&T won the MEAC title and finished 10-2 under first-year Coach Sam Washington. Quarterback Lamar Raynard, the bowl game's offensive MVP, completed 18 of 30 passes for 292 yards, with touchdowns to Zach Leslie and Elijah Bell.
Malik Wilson returned a kickoff 79 yards for another Aggies touchdown, while safety Richie Kettles was named the game's defensive MVP with nine tackles, including four for losses.
Coach Washington, a former assistant coach, was named North Carolina A&T's head football coach following the retirement last year of Rod Broadway, who guided the Aggies to Celebration Bowl titles in 2015 and 2017.