North Carolina A&T heading to Celebration Bowl Dec. 15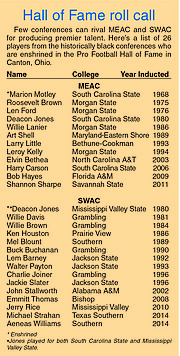 North Carolina A&T State University is making Atlanta a regular stop on its football travel itinerary.
For the third time in the four-year history of the Celebration Bowl, the Aggies are heading to Georgia to play in front of a national television audience.
North Carolina A&T will face Alcorn State University of Mississippi on Saturday, Dec. 15, for a noon kickoff at the indoor Mercedes-Benz Stadium. ABC will provide television coverage.
The Celebration Bowl matches MEAC and SWAC champions, the lone historically African-American Division I athletic conferences. The game also serves as a de facto Black Colleges National Championship.
There's much more than pride at stake. Each conference receives a $1 million payout.
North Carolina A&T, 9-2, won the MEAC title on the best regular season record.
Alcorn's Braves, 9-3, punched their ticket to Atlanta by defeating Southern University of Louisiana 31-28 in the SWAC title game last Saturday in Lorman, Miss.
Alcorn's most notable football alumnus is likely the late quarterback Steve McNair, aka "Air McNair." McNair was the NFL's Most Valuable Player with the Tennessee Titans in 2003.
North Carolina A&T's most recognizable gridiron alumnus is known for more than just scoring touchdowns. The Rev. Jesse L. Jackson Sr. served as the Aggies' quarterback for two seasons in the early 1960s after transferring to the Greensboro school from the University of Illinois.
In previous Celebration Bowls, North Carolina A&T defeated Alcorn in 2015, Grambling topped North Carolina Central University in 2016 and North Carolina A&T beat Grambling a year ago. The first two games were held at the Georgia Dome.
This is the third effort to crown a Black National Champion in a postseason bowl. The Heritage Bowl (1991 to 1996) and the Pelican Bowl (1972 to 1975) were similar arrangements, but minus the financial backing.
MEAC and SWAC relinquished automatic bids to the NCAA Football Championship Subdivision (FCS) playoffs to assure its winners meet in Atlanta.
• • •
Former Aggie Tarik Cohen, 2015 Celebration Bowl Offensive Player of the Game, has emerged as a go-to receiver with the NFL Chicago Bears.
While normally a running back, the 5-foot-6, 181-pound Cohen caught 12 passes for 156 yards and also threw a touchdown pass in the Bears' overtime loss last Sunday to the New York Giants.