VSU kicks it up a notch to beat Shaw 34-17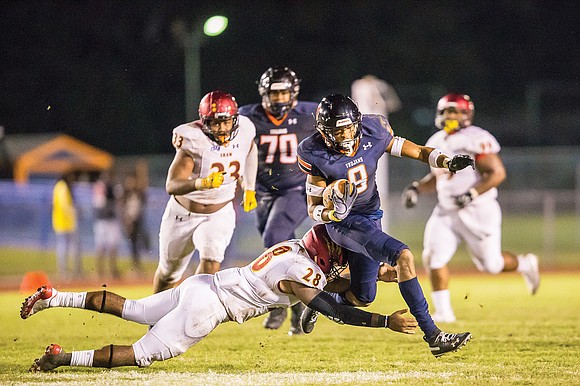 Trojans on home turf
Saturday, Oct. 6
Virginia State University plays Elizabeth City State University at Rogers Stadium in Ettrick.
Kickoff: 2 p.m.
The 2018 Virginia State University football team is starting to look a lot like the 2017 version, which is exciting news around Ettrick.
Coach Reggie Barlow's Men of Troy have won their last two games by a combined 77-31 and rate a solid favorite this Saturday, Oct. 6, against invading Elizabeth City State University.
Coming off a 10-1 CIAA championship season, the Trojans were slow out of the starting blocks, suffering two road losses and having another game canceled because of Hurricane Florence.
Since then VSU has been kicking up a storm of its own.
After winning 43-14 at Johnson C. Smith University on Sept. 22, the Trojans followed up with a 34-17 rout of Shaw in the long overdue home opener last Saturday at Rogers Stadium.
The Trojans will carry a 2-2 overall record and a 2-0 CIAA mark into Saturday's game with Elizabeth City State. History suggests a third straight Trojans win.
Last year in North Carolina, VSU spanked the Vikings 56-0.
VSU quarterback Cordelral Cook showed pinpoint control against Shaw, completing 31 passes for 357 yards and two touchdowns.
Favorite targets included senior Josh Harris from Hanover High School and freshman Andre Jackson from Hampton.
Harris had nine receptions for 132 yards against Shaw, bringing his season total to 22 catches for 281 yards. Jackson added five grabs for 88 yards.
Demetrius Strickland, also from Hampton, led the rushing game with 63 yards and a touchdown on 15 carries.
Nick Woolfolk, a sophomore from Richmond's Thomas Jefferson High School, nailed four of five extra points. Woolfolk was a rare four-sport athlete at TJ, excelling in football, basketball, baseball and soccer.
Elizabeth City State, whose schedule was hit hardest by Hurricane Florence, has had an unsteady season. The Vikings opened with a 19-10 home win over Central State University of Ohio before losing to the University of North Carolina-Pembroke 51-6.
ECSU's games Sept. 15 with Winston-Salem State University and Sept. 22 against Fayetteville State University were canceled. Last Saturday, ECSU posted a 24-17 loss to St. Augustine's University.
First-year Vikings Coach Anthony Jones is a former SIAC Coach of the Year at Morehouse College and former SWAC Coach of the Year at Alabama A&M University. He was named ECSU's football coach in April 2018.
VSU's chances of repeating as CIAA champ will be tested Saturday, Oct. 13, when the Trojans travel to Bowie State University. The Bulldogs are 4-1 this season behind quarterback Amir Hall, who twice has been selected as the National Black College Football Player of the Year.