Former ODU star Kent Bazemore a top money earner with Atlanta Hawks
Fred Jeter | 10/25/2018, 6 a.m.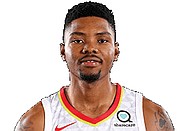 Multimillionaires Club
Here's the top salary on each NBA team:
Atlanta: Kent Bazemore, $18 million
Boston: Gordon Hayward, $31.2 million
Brooklyn: Allen Crabbe, $18.5 million
New York Knicks: Enes Kanter, $18.6 million
Philadelphia: Joel Imbiid, $25.4 million
Toronto: Kawhi Leonard, $23.1 million
Chicago: Jabari Parker, $20 million
Cleveland: Kevin Love, $24.1 million
Detroit: Blake Griffin, $32 million
Indianapolis: Victor Oladipo, $21 million
Milwaukee: Giannis Antetokounmpo, $23.1 million
Charlotte: Nicolas Batum, $24 million
Miami: Hassan Whiteside, $25.4 million
Orlando: Aaron Gordon, $21.5 million
Washington: Otto Porter, $26 million
Golden State: Steph Curry, $37.4 million
Los Angeles Clippers: Danilo Gallinari, $21.5 million
Los Angeles Lakers: LeBron James, $35.6 million
Phoenix: Ryan Anderson, $20.4 million
Sacramento: Zach Robinson, $11.6 million
Dallas: Harrison Barnes, $24.1 million
Houston: James Harden, $35.6 million
Memphis: Mike Conley, $30.5 million
New Orleans: Jrue Holiday, $25.9 million
San Antonio: DeMar DeRozan, $27.7 million
Denver: Paul Millsap, $29.2 million
Miami: Andrew Wiggins, $25.4 million
Oklahoma City: Russell Westbrook, $35.6 million
Portland: Damian Lillard, $27.9 million
Utah: Rudy Gobert, $23.2 million
The list of the NBA's highest paid players includes many known marquee players — LeBron James, Steph Curry, Russell Westbrook, James Harden and others.
Also on that list is a bit of a surprise.  
Lesser known — at least outside Virginia and his native North Carolina — is Kent Bazemore. The former Old Dominion University star is a top money earner among the Atlanta Hawks players, with a salary of $18,089,887 for the upcoming season.
The 6-foot-5 guard known as "3 and D" — for his ability to shoot 3-pointers and play defense — is in the third year of a four-year pact that expands to more than $19 million next season.
An article in Peachtree Hoops refers to Bazemore as "the best player (in the NBA) that nobody talks about."
The 29-year-old originally from rural Kelford, N.C., population 251 as of 2010, is about as close to a "rags to riches" story as you'll find. The left-hander wasn't even drafted coming out of ODU in 2012 and appeared to be a journeyman, at best, until landing in Atlanta and finding his groove.
Much of his first two pro seasons were spent shuffling back and forth between the Golden State Warriors and Santa Cruz (Calif.) of the Developmental League.
He spent part of 2013-14 with the Los Angeles Lakers before suffering a foot injury and being waived.
In Atlanta, his status has rocketed. He has become a top-dollar performer, albeit minus — as of yet — any All-Star credentials.
What Bazemore does is fill up the stat sheet with plus achievements and play shutdown defense against players of virtually any size.
Last season, the former Monarch averaged 13 points, four rebounds, four assists and two steals per game. He hit 39 percent from beyond the 3-point arc and 80 percent at the foul line.
Bazemore is well remembered around Richmond, at least among Virginia Commonwealth University fans. ODU traveled to the Siegel Center all four seasons Bazemore played for ODU. Also, all four Colonial Athletic Association tournaments during that span were played at the Richmond Coliseum. ODU won the CAA Tournament in 2010 and 2011 in Downtown with Bazemore a leading light.
He also was All-CAA as a senior while also earning the Lefty Driesell Award as the nation's top defender. While Bazemore developed into a star at ODU, he wasn't heavily recruited and was redshirted his freshman year.
Bazemore is a familiar name among Virginia Union University fans as well.
Kent's younger brother, WyKevin, is a former standout at Winston-Salem State University. He is one of only four players to make All-CIAA four straight years. WyKevin helped Winston-Salem State to win the 2012 CIAA Tournament title.
After playing professionally in Spain, WyKevin Bazemore is now assistant hoops coach at the University of Virginia at Wise.
Kent Bazemore still has a ways to go to become ODU's all-time NBA performer in terms of service. Mark West out of Petersburg High School played in the NBA from 1983 to 2000, covering 1,090 games. Bazemore is at 417 games, but with plenty of gas left.