Rockets' Harden soars with MVP title
7/6/2018, 4:51 p.m.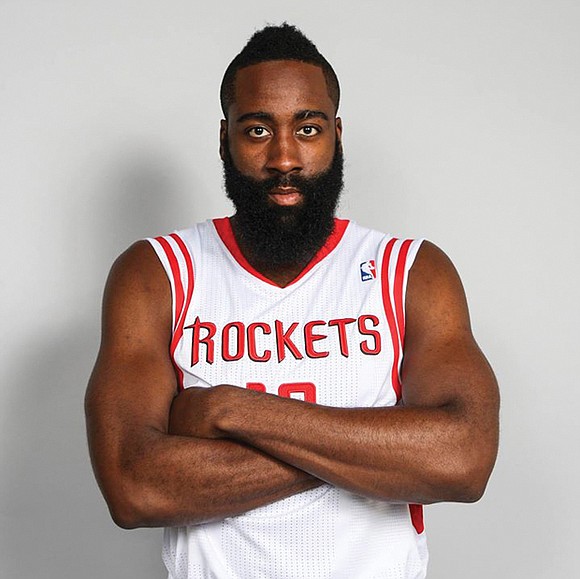 James Harden has gone from the sixth man to the main man in the NBA.
The Houston Rockets' 6-foot-5 shooting guard was named league MVP on June 25 at the NBA Awards Show in Santa Monica, Calif.
Other finalists for the coveted title were LeBron James and New Orleans' Anthony Davis .
A six-time All-Star and two-time MVP runner-up, Harden's career has taken off since being traded from Oklahoma City to Houston in 2012.
While with the Rockets, Harden has the most combined points, assists and rebounds of any NBA player.
In 2012, with OKC, Harden played in the shadows of Russell Westbrook and Kevin Durant, and was named the NBA's Sixth Man of the Year.
A native of Los Angeles and a former Arizona State All-American, Harden averaged 30.4 points, 8.8 assists and 5.4 rebounds this season, pacing Houston with the best record in the Western Conference.
The 28-year-old with his signature beard becomes Houston's first MVP since Hakeem Olajuwon in 1994. Petersburg native Moses Malone was MVP with the Rockets in 1979 and 1982.
Kareem Abdul-Jabbar is the NBA's all-time MVP leader with a combined six for Milwaukee and the L.A. Lakers. Bill Russell and Michael Jordan are next with five MVPs each. Wilt Chamberlain and LeBron James both have four MVPs and Malone, Magic Johnson and Larry Bird have three each.
Other awards:
Coach of Year: Dwane Casey. After guiding Toronto to the top record in the Eastern Conference, Casey has since been fired by the Raptors and since hired by the Detroit Pistons.
Sixth Man of Year: Lou Williams, Los Angeles Clippers
Defensive Player of the Year: Rudy Gobert, Utah Jazz.
Most Improved: Victor Oladipo, Indiana Pacers.
Rookie of the Year: Ben Simmons, Philadelphia 76ers.
Lifetime Achievement: Oscar Robertson, NBA's career leader in triple doubles.