Labor Day holiday highlights
9/6/2018, 6 a.m.
Richmond area residents took to the river, parks and football stadiums during Labor Day Weekend, the unofficial end of summer. The weather, though warm and humid, largely cooperated for the many fun outdoor activities and cookouts that took place during the long holiday weekend.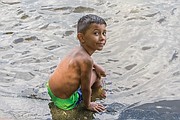 Axel Garcia, 6, enjoys the cool water of the James River, where he frolicked with family at Pony Pasture in South Side. Alumni and supporters of Virginia State University traveled to Dick Price Stadium at Norfolk State University for the Labor Day Classic, the gridiron matchup last Saturday that drew a crowd of more than 15,000 people. It was the inaugural game on NSU's upgraded synthetic turf field.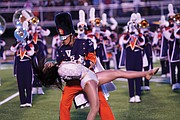 VSU's Trojan Explosion Marching Band performs with the Essence of Troy dancers, while NSU's Hot Ice dancers show off moves of their own backed up by the NSU Spartan Legion Marching Band.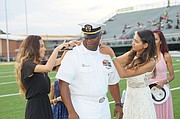 NSU also held a promotion ceremony for Cmdr. Samuel Hoard Jr., a former Navy lieutenant commander and NSU alumnus. His family joins him on the field for the ceremony performed by Rear Adm. Jesse A. Wilson Jr., commander of Naval Surface Force Atlantic.