Pressley to become first African-American woman to represent Massachusetts in Congress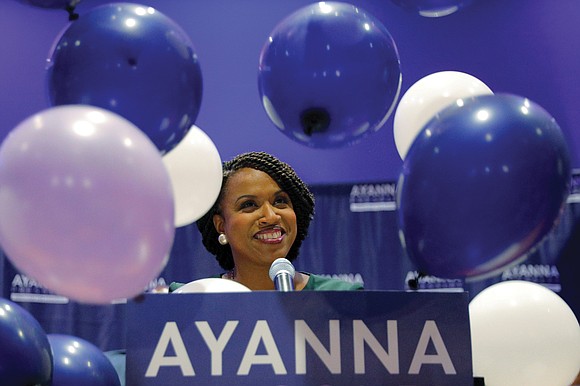 BOSTON
Add the name Ayanna Pressley to the list of African-American underdogs who are achieving unprecedented political success. Ms. Pressley scored a stunning upset of 10-term U.S. Rep. Michael Capuano in Tuesday's Democratic primary, positioning herself to become the first African-American woman to represent Massachusetts in Congress.
She will not have a Republican challenger on the November ballot in this Boston-based district, once represented by future President John F. Kennedy. It is one of the most left-leaning districts in the country.
Her triumph delivered another stark message to the Democratic establishment that newcomers on the insurgent left are unwilling to wait their turn.
Ms. Pressley propelled her candidacy with urgency, arguing that in the age of Trump, "change can't wait."
Her victory carried echoes of the surprise win in June by Alexandria Ocasio-Cortez, who trounced a longtime House incumbent, Rep. Joseph Crowley, in New York and other unexpected wins in Georgia and Florida.
Addressing jubilant supporters at a union hall in Dorchester on Tuesday night, Ms. Pressley called it a win for "people who feel seen and heard for the first time in their lives, a stakehold in democracy and a promise for our future. That is the real victory, that is bigger than any electoral victory. And I want to thank you all for being foot soldiers in this movement and for ushering in this change."
Rep. Capuano conceded with barely 13 percent of the votes counted, commending his rival.
"Ayanna Pressley is going to be a good congresswoman, and I will tell you that Massachusetts will be well served," he said.

Ms. Pressley, who in 2009 became the first African-American woman elected to the Boston City Council, overcame a powerful lineup of the Massachusetts political establishment. Rep. Capuano, 66, has held the congressional seat for 20 years, and had the backing of every major Democratic political figure, including Mayor Martin J. Walsh of Boston, who deployed his extensive political machine on Tuesday on Rep. Capuano's behalf.
Currently, just two of the state's nine representatives in Congress are women, and one is retiring. It was not until 2012 that Massachusetts elected its first woman — Elizabeth Warren — to the U.S. Senate. It has never elected a female governor.
The late Edward W. Brooke III of Massachusetts was the first African-American in the nation popularly elected to the U.S. Senate. A Republican, he represented that state from 1967 to 1979.