Conflicting accounts emerge in bizarre case of cop killing man in his own apartment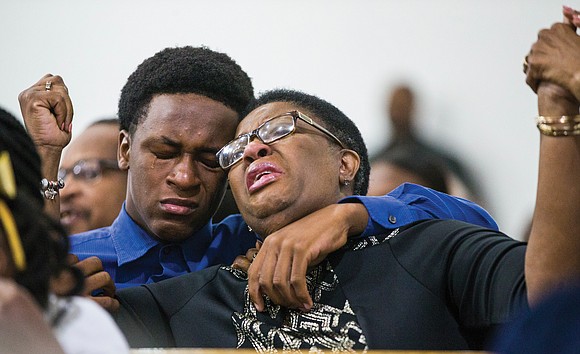 Mr. Merritt said he believes those were Mr. Jean's last words.
As for the contention that Mr. Jean left his front door ajar, Mr. Merritt said Mr. Jean was a "meticulous individual" who made it "a point to close the door behind him."
"He put everything in a particular place," Mr. Merritt said.
He said Mr. Jean had a red doormat outside his apartment door. "In fact, to ensure no one mistook his apartment the way this officer is claiming in this case, he went out and bought the biggest, brightest red rug and placed it right there at his doorstep," Mr. Merritt said.
Mr. Merritt has represented relatives of an unarmed black teenager who was fatally shot in the back by a white police officer in June while fleeing a traffic stop near Pittsburgh.
Mr. Crump is best known for representing the families of Trayvon Martin and Michael Brown. Trayvon, 17, was fatally shot in 2012 in Florida by George Zimmerman, a Hispanic man who was a neighborhood watch captain. Michael, 18, was shot to death in 2014 by a white police officer in Ferguson, Mo.
Protesters gathered at police headquarters Monday night in Dallas, The Dallas Morning News reported. Several dozen blocked traffic as they marched about half a mile from the headquarters. Police used pepper-spray devices to help control the crowd at one point.
Ms. Johnson, the Dallas County district attorney, emphasized that her office was conducting its own probe, in addition to the investigation by the Texas Rangers. She will have the option of presenting more serious charges to the grand jury.
It was not immediately clear if Officer Guyger had an attorney.
Officer Guyger's blood was drawn at the scene to be tested for alcohol and drugs, Police Chief U. Renee Hall said, but authorities have not released results.
Mr. Jean grew up in the Caribbean island nation of St. Lucia before attending college in Arkansas. He graduated in 2016 from Harding University, where he often led campus religious services as a student. He had worked for accounting firm PricewaterhouseCoopers since graduating.
Mr. Jean wasn't the first person shot by Officer Guyger. She shot a man named Uvaldo Perez on May 12, 2017, while on duty.
According to an affidavit filed against Mr. Perez, police were looking for a suspect when Officer Guyger and another officer were called to assist a third officer. Mr. Perez got out of a car and became combative with Officer Guyger and another officer. A struggle began and Officer Guyger fired her Taser at Mr. Perez, who then wrested it away from her. She then drew her gun and fired, wounding Mr. Perez in the abdomen.
Sgt. Michael Mata, president of Dallas' largest police union, the Dallas Police Association, said Officer Guyger was a respected officer who worked on a high-risk team tasked with arresting some of the most violent offenders. On the day of the shooting, her unit had arrested multiple suspects for armed robbery, he said.