Joshua Brown, key witness in Botham Jean case, fatally shot
Free Press wire report | 10/11/2019, 6 a.m.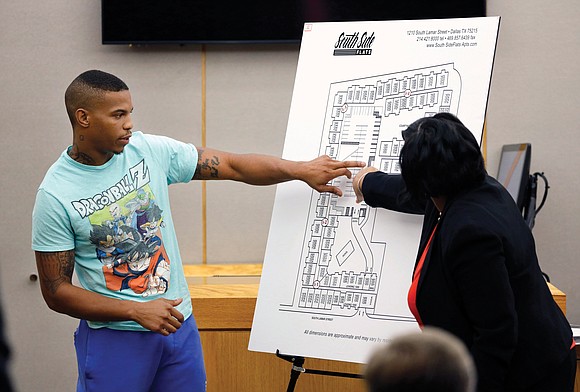 Dallas authorities are insisting that the slaying of Joshua Brown, a key witness in the murder trial of a former Dallas police officer, was part of a drug deal gone bad and not connected to his testimony in the case against Botham Jean's killer.
Mr. Brown, whose testimony helped prosecutors piece together the events of Mr. Jean's murder in September 2018, ultimately led to a jury convicting the former officer, Amber Guyger, of murder on Oct. 1. She was sentenced to 10 years in prison on Oct. 2.
Mr. Brown's slaying just two days later on Oct. 4 has raised jarring questions and widespread speculation that his death may have been at the hands of police in retribution for his testimony against the former police officer.
Assistant Police Chief Avery Moore sought to quash the rumors at a news conference Tuesday. He said that three men from Alexandria, La., will face capital murder charges in the killing of Mr. Brown, 28, in the parking lot of a Dallas apartment complex.
One of the three, he said, is in police custody at a Dallas hospital, while a second suspect was arrested in Marksville, La., by federal marshals on Tuesday evening. A third man is being sought by authorities.
Assistant Chief Moore said the hospitalized man in custody told police that Mr. Brown shot him in the chest after an altercation arose during the drug deal. One of the fugitives returned fire, shooting Mr. Brown twice and killing him, Assistant Chief Moore said.
"As you know, there's been speculation and rumors that have been shared by community leaders claiming that Mr. Brown's death was related to the Amber Guyger trial and somehow the Dallas Police Department was responsible," Assistant Chief Moore said during the news conference.
"I assure you that is simply not true, and I encourage those leaders to be mindful of their actions moving forward because their words have jeopardized the integrity of the city of Dallas as well as the Dallas Police Department."
It is unclear how the three men came into contact with Mr. Brown or why they would have driven more than 300 miles from central Louisiana to purchase marijuana in Texas.
Mr. Brown's slaying occurred less than 6 miles from the apartment complex where he lived and where his across-the-hall neighbor, Mr. Jean, was fatally shot by Ms. Guyger, who had left work but was still wearing her police uniform when the shooting occurred.
During the trial, Ms. Guyger claimed she walked into Mr. Jean's apartment by mistake, thinking it was hers on the floor below. She testified that she saw Mr. Jean and immediately assumed he was a burglar and shot him twice.
Mr. Jean, a 26-year-old accountant, was sitting on his couch, watching television and eating ice cream.
Mr. Brown was visibly shaken by the shooting and cried during his testimony at Ms. Guyger's trial. He testified that he was down the hall from the apartment when he heard the voices of two people who sounded like they were meeting by "surprise." The gunshots followed "right after," he said.
Looking through his apartment door's peephole, he said he could see Ms. Guyger walking back and forth while talking on the phone.
Lee Merritt, an attorney for Mr. Jean's family who is now also representing Mr. Brown's family, said Mr. Brown should have been under protection after testify- ing at the trial.
Mr. Brown also was poised to testify in the upcoming civil case Mr. Jean's family has filed against the City of Dallas in the death of their son. Mr. Merritt said Mr. Brown would have been one of the first witnesses.
Mr. Merritt, the Brown family and officials with the NAACP Legal Defense and Educational Fund have re- quested an independent investigation into Mr. Brown's death. Mr. Merritt urged the Dallas Police Department to hand off the investigation to another law enforcement agency as a way to remove a cloud over the investiga- tion's reliability and to bolster public trust.