RPS in fix-it mode on 'so many issues'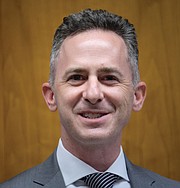 Hurricane Florence is not the only storm Richmond Public Schools has to weather.
Since Superintendent Jason Kamras arrived in February, his administration has been dealing with the heated and windy uproars over problems and issues that were buried or ignored by previous administrations and School Boards but have been uncovered in recent months.
The problems Mr. Kamras has inherited range from previously unaddressed violations of Virginia Department of Education policies to long ignored reports of cheating on state Standards of Learning tests, most notably at Carver Elementary School, where the former principal, Kiwana Yates, allegedly led a ring of teachers in dramatically raising the percentage of students passing crucial tests in reading, writing and arithmetic by coaching them on the answers.
"The new administration and board have uncovered so many issues," said School Board Chair Dawn C. Page, 8th District, who in 2017 was among the members involved in ousting the former superintendent, Dr. Dana T. Bedden.
Her list includes the discovery that the city was holding millions of dollars in maintenance dollars that were supposed to be turned over to Richmond Public Schools but which RPS had failed to properly account for and request, and the finding that the RPS central office had failed to properly maintain student grade point averages, awarded too much credit for standard classes and too little for advanced classes.
Ms. Page also cited the past administration's failure to ensure enough class minutes for high school students to receive full credit for classes.
A recent VDOE audit turned up the problem that has forced RPS to extend the school day for most of its high schools by 10 minutes to meet instructional time requirements the state imposes.
Currently, RPS is seeking state waivers in a bid to avoid having to withdraw credit for one or more courses for as many as 300 seniors, or about one in four students in the 12th grade.
"The previous administration had been notified that class times were too short, but never took action to correct the issue that has lingered since 2015," Ms. Page said. "This is unacceptable. If the issues of instructional time and improper grade reporting had remained uncorrected, RPS students would continue to suffer."
At the Sept. 4 School Board meeting on the day city public schools reopened, frustrated high school teachers and parents vented about the last-minute notice about the extension of the school day. Mr. Kamras, who had promised to be open and transparent, issued the notice seven days before the start of classes without seeking any input.
Teachers also expressed displeasure that Mr. Kamras also planned to ensure instructors spend eight hours daily in school, a workday requirement that is part of their contracts but not previously enforced. Teachers also would be required to participate in professional development for at least an hour a week at their schools after classes end.

The board declined to intervene in the decisions involving hours and in-school training, but unanimously approved the longer high school day, telling those upset that there was no choice if RPS wanted to comply with state instructional policies.