Waiver expansion undermines RPS absenteeism policy
Richmond Public Schools Superintendent Jason Kamras has quietly undermined a Richmond School Board effort to crack down on the serious problem of chronic absenteeism by students.
The board's current policy eliminates course credits for high school freshmen, sophomores and juniors who had 18 days or more of unexcused absences. But the superintendent only eliminated course credit for students who missed more than 30 days without having a serious medical condition or other similarly significant issue that kept them from attending school.
While administration officials and School Board Chair Dawn C. Page denied any change in the policy, the Free Press obtained a June 19 email from Mr. Kamras to the School Board that spells out the modification he made without first obtaining board approval.
"Though our board policy allows credit removal after 18 absences, we only denied waivers for students who had more than 30 absences," Mr. Kamras wrote, suggesting the policy provided discretion.
The School Board policy, though, requires denying course credit after a student misses 10 percent of the 180-day school year absent extraordinary circumstances such as a prolonged hospitalization. Mr. Kamras' change denied course credit only after students missed nearly 17 percent of the school year.
Asked about the change, Michelle Hudacsko, chief of staff to Mr. Kamras and his cabinet, told the Free Press the policy had been followed despite Mr. Kamras' report to the board.
"Attendance waivers were required for any child who missed more than 18 days, per board policy," she stated. "Both school administration and (RPS Chief of Schools) Harry Hughes reviewed them and approved or denied them based on medical hardship or unique circumstances.
"There was no modification of board policy as the policy includes a waiver provision," Ms. Hudacsko noted.
Ms. Page, 8th District, agreed in a response that was virtually identical to that provided by Ms. Hudacsko. Ms. Page said the superintendent has the authority to issue waivers to the policy that was put in place to meet the goal "that our students are in school on a daily basis to receive high quality instruction."
However, School Board member Jonathan Young, 4th District, who was among the advocates for the new policy that was put in place before the start of the 2018-19 school year, expressed concern.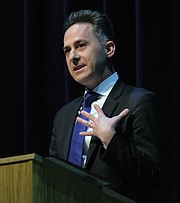 "I understand grace, but what I cannot support is adoption of a 'paper tiger' attendance policy that perpetuates students missing up to one-sixth of the school year (30 days)," Mr. Young wrote in a statement to the Free Press.
He noted that in a report on the challenges that RPS is facing, the Virginia Department of Education spotlighted chronic absenteeism as a significant reason that RPS has among the poorest results among the 132 school divisions in the state for the number of students passing Standards of Learning tests and for on-time graduation.
"We approved that policy to try to address the issue that VDOE had noted, and now we are being told it is not being fully enforced," Mr. Young said in a follow-up statement. "The waivers were supposed to only apply to exceptional circumstances, not as a routine exception to the policy."

As best as can be determined, the superintendent's change appears to have sharply reduced the number of students who potentially could have lost course credit.
Mr. Kamras reported 128 students were denied waivers from the policy due to excessive absences and lost credit for a combined 184 courses, which they would need to make up in summer school or in a fall credit recovery program.
Mr. Hughes earlier indicated that "several hundred" students had missed 18 or more days of class without permission as of April and would be subject to review to determine if they would lose credit.
In early June, students who faced loss of credit because of absences were given two days to have their parents or guardians apply for a waiver from the policy. Mr. Kamras' report did not tell the board how many waiver applications were received and how many were approved.