Richmond barber helping rebuild lives, homes in Haiti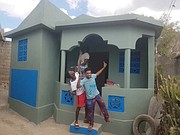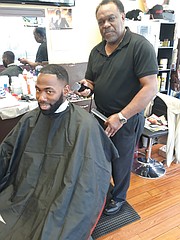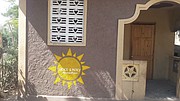 Kenneth Barney makes his living cutting hair.
But in his spare time, the longtime Richmond barber is on a mission to build solid, safe houses in a community in Haiti where thousands make their homes in tiny ramshackle spaces.

Mr. Barney has built three homes there already and has organized a nonprofit, Grace and Mercy Foundation, with his daughter, Devine, to raise additional funds to continue the construction of cinderblock homes that cost $4,000 to $5,000 to build in the impoverished Caribbean nation.
He also has collected used laptop computers, repaired and upgraded them and shipped them to the Haitian community to improve educational access for schoolchildren. He wants to expand the effort beyond the 30 laptops he has provided to create a computer center as part of the foundation's work.
His foundation is helping residents of Pignon, a 320-year-old settlement of about 30,000 people located about two hours north of Haiti's capital, Port-au-Prince.
"My goal is to build at least four houses a year. I am hoping that others will join me to improve the lives of these wonderful people," said the 66-year-old Louisa County native who has been cutting hair in the city for 42 years.
Mr. Barney is the owner-operator of Genesis Barbershop on East Grace Street in Downtown. Mr. Barney said he learned about the need when he joined a mission trip to Haiti in 2016 sponsored by his church, Mount Olive Baptist Church in Glen Allen. The trip was led by the Rev. Janice Corbett, an associate pastor at the church who has a long track record with global missions.
"She's been asking me and other congregants for years to go on a mission trip. This time, I decided it was time to go," Mr. Barney said.
Mount Olive previously had built a Baptist sanctuary for a sister church in Pignon. The purpose of the mission trip was to provide volunteer support at the church and in the community.
Mr. Barney said the trip opened his eyes to the resilience of Haitians and their shelter challenges that are far greater than anything he has seen in this country. He said people were living in tiny spaces made of discarded metal and crumbling concrete or in clay buildings with branches for roofs.
"Most families had one-room houses, and everyone slept in that one room," he said.
He said he got involved in home building in Pignon after a teen told him the sad story of his family's eviction. He said he felt he had to do something to relieve their homelessness.
Mr. Barney paid to build a home for them and thought about doing more. He said the teen, Marcelene Woodson, introduced him to an uncle who is a skilled builder. Since then, Mr. Barney has built a house a year.
"These are four-room homes," he said. "But they are very simple. They provide basic shelter. There are no furnishings, kitchens or bathrooms. I'm just trying to provide a safe place. People there are used to cooking outdoors and using latrines they set up. But quality shelter is hard to come by."
He said he also was moved by seeing so many children not attending grade school because their families were too poor to pay to send them.
Mr. Barney said contributions to the foundation would be used to "send children to grade school and build more homes in Pignon."
To Mr. Barney, this is one way for people in the United States to give back to others who have so much less.
"We may not be able to solve the world's problems, but I think we can try to make a difference one family at a time."
Details and donations: www.graceandmercyfoundation.com or Grace and Mercy Foundation, 13587 Ashland Road, Ashland, Va. 23005.