Flying Squirrels second baseman Jalen Miller, 22, already in Baseball Hall of Fame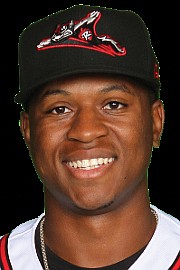 Jalen Miller achieved one of baseball's rarest feats a season ago when he hit for the cycle — a single, double, triple and homer in the same game. It was a shining neon sign of coming attractions for the now 22-year-old second baseman with the Richmond Flying Squirrels.
Miller's historic cycle came April 11, 2018, while playing for the Class A San Jose Giants in a California League game against the Lancaster JetHawks of Lancaster, Calif.
The chiseled 5-foot-11, 190-pound Miller shifted into a higher gear at San Jose (51 extra-base hits, 61 runs batted in) and he has kept his foot firmly on the pedal for the Class AA Eastern League Richmond Flying Squirrels.
Through 14 games under Flying Squirrels Manager Willie Harris, Miller was hitting for power and average while showing off an exceptional glove defensively.
Miller wears the No. 1 jersey, which is fitting because he is No. 1 among the Squirrels in homers (3) and stolen bases (3) while hitting .289.
He also has displayed maturity beyond his years on and off the diamond.
"The first time I saw Jalen, he walked right up to me, shook my hand ... looked me right in the eye and called me by name," said Squirrels Vice President and Chief Operating Officer Todd "Parney" Parnell. "He's a very impressive young man."
Coming out of high school in the Atlanta suburbs, Miller turned down a scholarship offer from NCAA power Clemson University to sign with the San Francisco Giants.
A third round pick, Miller became a millionaire at age 18. His signing bonus was $1.1 million.
"The money had something to do with it," Miller said of his decision. "But I've always wanted to be a pro baseball player. It helped me get an earlier start on my career.
Miller turns 23 in December; this marks his fifth pro season in the Giants' franchise.
"It took me a while to adjust to 140 games a season and I had my struggles," he said. "But I feel like I've learned from my mistakes. I don't regret my decision" to turn pro.
Unlike a majority of young African-American athletes nowadays, Miller passed on football and basketball to concentrate on baseball. It helped that his family had season tickets to Atlanta Braves games.
"My father (Donnie) took me to a lot of games. We sat about two rows behind the tarp on the first base side," Miller recalled.
"Growing up, my favorite players were Chipper (Jones) and Andruw Jones," both of whom played in Richmond en route to Atlanta.
If Miller had opted for a sport besides baseball, it likely would have been golf.
"I went to summer golf camp four years in a row," Miller said.
Miller played baseball for Riverside International Charter High School and also the potent East Cobb travel team.
His skills were obvious. Heading into his senior year at age 17, he was timed in the 60-yard dash at 6.9 seconds and his infield throw was clocked at 84 mph at Perfect Game Camp. He's certain both his speed and arm have been seriously upgraded since then.
On the pro level, he is often compared to Cincinnati Reds second baseman Brandon Phillips from Stone Mountain, Ga. Miller and Phillips have more in common that being African-American and from Georgia.
"Brandon's father (James Phillips) was my workout coach in high school," Miller said. "And sometimes Brandon would come by and work out with us. That was pretty cool."
James Phillips runs the Phillips Baseball Center in Pine Lakes, Ga. Brandon Phillips, like Miller, signed a pro contract straight out of high school.
Miller hopes someday in the not too distant future to become a fixture at second base in San Francisco, just like Phillips is in Cincinnati. The Giants' current second baseman is former Flying Squirrels player Joe Panik.
In recording his cycle a year ago in San Jose, Miller tripled in his final at bat off Lancaster, side-arming right-hander Justin Lawrence.
"I hit a line drive that the centerfield dove for and missed. It went by him and that's how I got a stand-up triple," Miller explained.
The jaw-dropping performance made waves all the way to Cooperstown, N.Y., site of the National Baseball Hall of Fame and Museum. Cooperstown officials requested a photo of Miller and a photo of the scoresheet as proof.
So the Flying Squirrels second baseman was a millionaire at 18 and part of the Baseball Hall of Fame at 21. It could be said that Miller rode his cycle all the way to Cooperstown.