Personality: Brian Palmer
Spotlight on 2019 Peabody Award-winning journalist
4/26/2019, 6 a.m.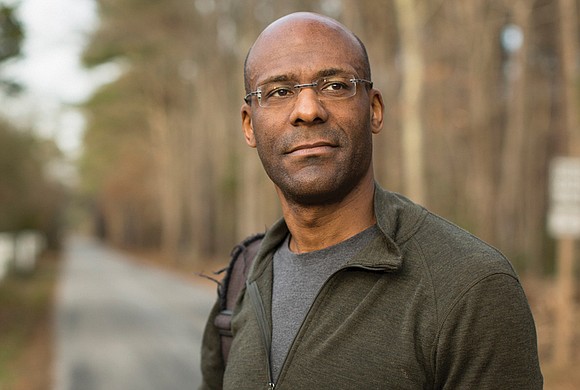 Richmond-based journalist Brian Palmer, whose career has taken him around the globe, has won a prestigious Peabody Award, which recognizes and honors the most enlightening and powerful stories, documentaries, radio and television shows and podcasts about pressing social issues of the day.
The announcement was made Tuesday, with the awards slated to be presented at a $1,500-a-person red-carpet dinner ceremony May 18 in New York City.
Mr. Palmer, who has completed several freelance assignments in recent years for the Richmond Free Press, won the Peabody Award for "Monumental Lies," on the podcast Reveal produced by Type Investigations for The Center for Investigative Reporting and PRX. The investigative piece focuses on public funding used to erect and maintain Confederate monuments across the South and the ideology of some groups involved with them.
Mr. Palmer and co-writer Seth Freed Wessler also authored the story for Smithsonian Magazine. Mr. Palmer's research on taxpayer funds used in Virginia to support Confederate monuments was published in his front page article, "Still funding Confederacy," in the March 21-23 edition of the Richmond Free Press.
"Taxpayer funding is portraying the Confederate cause as noble and slavery as a benign institution," Mr. Palmer says in an interview Wednesday with the Free Press. "These particular Confederate burial sites, not the historically accurate battlefield plaques, are cemeteries and monuments that perpetuate an ideology of a Lost Cause."
Mr. Palmer and Mr. Wessler joined forces to create "Monumental Lies" by coming from similar directions.

"Seth had done a story on a neglected African-American cemetery in St. Louis County, Missouri, and I had started to do work on neglected cemeteries in Richmond and Henrico County," Mr. Palmer says. "We both were wondering why these hundreds of African-American burial sites are in such terrible condition and, in the same towns and just blocks away, as with the case of Oakwood and Evergreen cemeteries here, we have these pristine Confederate cemeteries."
Their work, the result of dozens of interviews, scores of Freedom of Information Act requests, painstaking investigation and visits to Civil War-related historic sites, is a riveting story about notions of the Confederacy that persist to this day.
The native of Queens, N.Y., says he was inspired by his parents to pursue a career in journalism, along with the journalists he discovered that spoke truth to power — from Ida B. Wells to Chuck Stone.
"Their search for justice and honestly has driven me and compelled me to become a journalist," Mr. Palmer says.
He says his mother, Edith Palmer, instilled in him at an early age to "accept responsibility for my actions and don't blame other people." Supporting that advice, Edward Palmer, his father, believed that people are to be held accountable for their actions, especially for historical and systemic racial discrimination and Jim Crow suppression.

"In one sense, I see that as one of the main keys to a satisfied life," Mr. Palmer says.
While visiting his older sister, Karen, when she was a Princeton University undergraduate in 1980, he sat in on her class that was taught by Gloria Emerson, a New York Times war correspondent during Vietnam. The guest speaker that day, he recalls, was Seymour Hersh, an investigative journalist and political writer based in Washington.