$6M: Richmond spending much more than Chesterfield on new schools
Richmond apparently will spend at least $6 million more on building two new elementary schools than Chesterfield County is having to pay, according an update report the Joint Construction Team provided to the city School Board Monday night.
According to the data provided by the JCT, a group of city and school officials overseeing the construction, Richmond is paying substantially more per square foot than Chesterfield in building new elementary schools and potentially less for a new middle school.
That caught some Richmond School Board members by surprise. Third District representative Kenya Gibson, who previously questioned the cost of the new schools, said the report left her "with more questions than answers."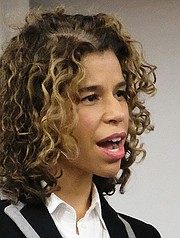 One big reason for the difference, JCT stated, is that the city is spending 6 percent more on energy efficiency than Chesterfield, although no justification was provided to support that claim.
The JCT submitted the data to defend the projected expenditures for building three new schools that are projected to use almost the entire $150 million provided by city taxpayers.
Closer scrutiny of the figures appears to undermine the JCT's claim that the expenditures are reasonable when it comes to the elementary schools.
While the JCT figures did not include all expenses for the new city schools and did not explain an item labeled "other costs" attributed to Chesterfield County schools, the figures that were included offer best evidence that Richmond's costs will be higher.
For example, Chesterfield received in January 2018 an average construction bid of $25 million, or $256 per square foot, to build the Old Hundred Elementary School, the JCT reported.
At 99,271 square feet, Old Hundred Elementary is about the same size as Richmond's new George Mason Elementary in Church Hill, one of the three new city schools that include a replacement for E.S.H. Greene Elementary and a replacement for Elkhardt-Thompson Middle School.
According to the JCT, when inflation, energy efficiency and "other costs" are added, the price tag for Old Hundred Elementary should be around $30.76 million, or about $310 per square foot.
However, Richmond is projected to spend $33.5 million on site work and construction of George Mason Elementary, or $335 per square foot. The $25 per square foot difference means Richmond will spend $2.5 million more for George Mason than Chesterfield is paying for Old Hundred.
That's also the case with the new 1,000-student Greene, which, at 116,000 square feet, will be larger than each of the three new elementary schools in Chesterfield that the JCT report used for comparison.
Construction bids for Chesterfield's new 96,000-square-foot Harrowgate Elementary, on which bids were opened in January 2019, came in at about $24 million, JCT stated, or about $247 per square foot.
The JCT estimated that after inflation, energy efficiency and "other costs" are added, the price for Harrowgate should run $26.8 million, or about $279 a square foot.
The JCT projected cost for site work and construction of Greene at $36.6 million, or $315 per square foot, not including design, engineering, inspections and other costs.