Historian works to humanize the enslaved who built Monroe
Lisa Vernon Sparks Daily Press via Associated Press | 8/9/2019, 6 a.m.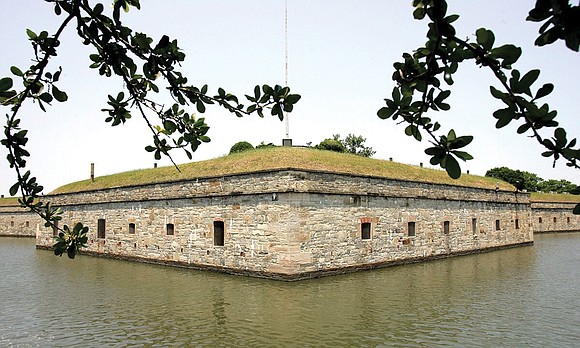 A trove of historical records tells that Fort Monroe in Hampton was built on the backs of thousands of enslaved Africans.
But little was known about their identities or who they were — until now.
Meet Amos Henley, 23. Skilled, but unpaid for his efforts, Mr. Henley was among hundreds of enslaved people leased out to the Army by their owners, who fetched a tidy sum for their work. The enslaved labored between 1820 and 1824 during the days when the foundation of the stone fortress was laid.
Mr. Henley, who worked on a barge crew daily from sunrise to sunset, died in 1821 during an accident while hauling stone with a windlass crank at Old Point Comfort.
Notably, there is a primary record of his story and other enslaved laborers that includes first and last names — significant because it was created in a register some 50 years before the first African-Americans, except for free black people, were counted in a U.S. Census.
The register, handwritten entries in two books, is the subject of a recently published paper, "Humanizing the Enslaved of Fort Monroe's Arc of Freedom," written by Casemate Museum historian W. Robert Kelly.
Mr. Kelly was the featured speaker and presented his paper recently during a spring meeting of the Afro-American Historical Genealogy Society of Hampton Roads at the Hampton Public Library.
The three-section paper, published in the "Journal of Contemporary Archival Studies," is work-in-progress research that explores several entries recorded by the Army Corps of Engineers between 1819 and 1917.
It highlights research about the full names of the enslaved and their work, letters sent to chief engineers and copies of reports at Fort Calhoun/Wool and Fort Monroe, among other entries.
For Mr. Kelly, discovering a manifest of enslaved laborers not only weaves in another layer about the fort's history, it humanizes the African-Americans who built the country's largest stone fort.
"It's a well-known fact that slave labor was used to construct Fort Monroe. What makes this so significant is we know actually what tasks they were doing and we are beginning to learn who they were. That's important," Mr. Kelly said. "It's groundbreaking research that we intend to continue ... to make accessible to the public, to make searchable, to make usable."
Meticulous entries, one called "Register of Work Done by Slave Labor at Fort Monroe," lists first and last names of the enslaved, owners, rates of pay the enslaved earned for their owners monthly, the number of days worked and daily routines. Less frequently, details about the enslaved, such as who was "absent, sick, discharged, deserted or died," also were recorded, Mr. Kelly wrote.
The register, with some 300 names of enslaved people and 50 owners during the 1820s, offers a view into those lives.
Adding a name to a face of those contributions begins to pave "the way for future generations of enslaved people to experience Fort Monroe not as a labor camp, but as Freedom's Fortress," Mr. Kelly wrote, alluding to decades later when thousands of enslaved people sought refuge at the fort.