Moving on up or out? Mayor Stoney submits to City Council $1.5B Coliseum replacement and Downtown development plan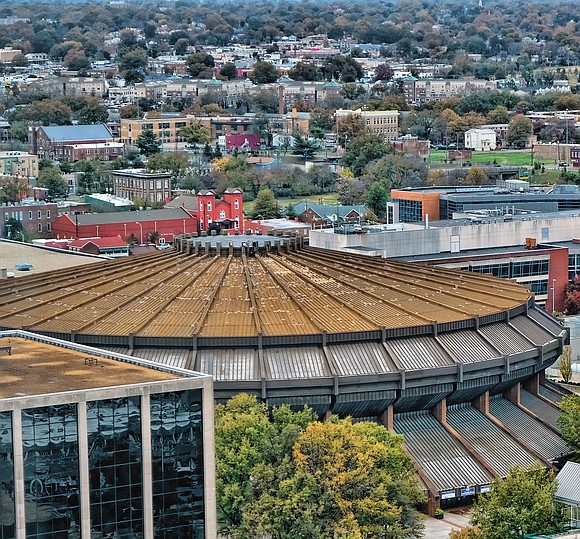 Five months ago, Mayor Levar M. Stoney was singing the revenue blues as he introduced his latest budget.
He told city residents that revenue was growing too slowly to keep up with the overwhelming demand for resources, and without a major increase in the property tax, the city couldn't adequately address major challenges ranging from fixing city streets to funding public education and replacing worn-out police cars and fire trucks.
Mayor Stoney now has changed his tune as he introduces his long-awaited grand development plan for Downtown.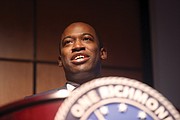 Taking the leap last Thursday, he essentially told city residents that the government is so wealthy that it can afford to divert millions of dollars a year in property taxes to pay for his current No. 1 priority — development of a huge 17,500-seat arena costing at least $235 million to replace the now closed Richmond Coliseum.
After nine months of virtual silence, the mayor fully unveiled the $1.5 billion plan to replace the Coliseum and construct an array of other private developments around it, including more than 2,500 new apartments, 20 to 25 new restaurants, at least two office buildings, a modern bus terminal for GRTC and a 541- room convention hotel.
Mayor Stoney called the plan, which was modified somewhat from the proposal he embraced last November, a "transformational" project that would generate thousands of new jobs, create a river of new tax revenue for the city and create "a thriving city center."
He delivered the ordinances that would make it happen to Richmond City Council at a brief special meeting Monday.
The mayor and his staff crafted the deal with the Navy Hill District Corp., a group led by Dominion Energy's top executive, Thomas F. Farrell II. If the plan is approved by City Council, Navy Hill District is to manage the entire deal, including operating and maintaining the new Coliseum and spearheading the other developments.
The target area for the develop- ment includes eight blocks in the area bounded by Leigh, Marshall, 5th and 10th streets, and portions of two blocks south of Broad Street in which the city owns surface parking lots at 4th and Broad streets and 6th and Grace streets.
While most of the plan involves private development that must find its own financing, the city must provide the money — subject to annual appropriation by the City Council — to repay the principal and interest on the $330 million that the mayor said would be borrowed to build the new Coliseum.
However, that amount that could top $600 million over 30 years, depending on the interest rate. The bond money, essentially a loan, also might include funding to pay for raising Clay and Leigh streets, which dip below grade on one side of the Coliseum, but that expense has gone unmentioned.
A financial analysis also indicates the city would need to spend $6 million to $10 million to cover additional costs, including construction of a new fire station. Under the plan sent to City Council, the Richmond Department of Social Services building would remain at 9th and Marshall streets until Navy Hill District finds another Downtown location for it. City officials have said the state would pick up the lion's share of relocation costs for the social services department.