Down again: Student achievement drops again for Richmond Public Schools, according to 2018-19 SOL test results

Richmond Public Schools student achievement continues to decline, according to state Standards of Learning test results released this week by the Virginia Department of Education.
The tests, which are taken by elementary, middle and high school students each spring, show that Richmond Public Schools overall pass rates are below the state's average in each of the five core subject areas.
The Richmond district's biggest improvement was in math, where 56 percent of test-takers passed in 2018-19, compared with 52 percent the previous year.
Slight gains also were made by students in writing and science. Overall scores in RPS for writing were 52 percent in 2018-19, compared to 50 percent in 2017-18, while science scores saw an increase by 1 percentage point, from 59 percent in 2017-18 to 60 percent in 2018-19.
Student achievement fell 7 percentage points in history-social science, from 62 percent in 2017-18 to 55 percent passing in 2018-19. The pass rate also dropped in reading, with 56 percent of students passing the SOL this year, compared with 59 percent in 2017-18.
Richmond School Board Chairwoman Dawn Page noted the small improvements in math, writing and science scores, but said via text, "The district and the board recognizes we are not where we need to be. Our students deserve better.
"And with the city's investment in DREAMS4RPS (the school system's five-year strategic plan), more support will be put in place for student learning ... especially in high-risk areas," she said.
Jason Kamras, who took over as Richmond's school superintendent in February 2018, responded to the SOL test results noting the changes that must be made.
"One of our main priorities this year is the adoption of new math and reading curricula," he stated in an email. "Right now, our teachers are expected to essentially create their own curricula on a daily basis and that's unfair to them and not best practice for students."
He said the school system also is "investing in more reading specialists and other reading supports, along with more personnel such as social workers and nurses to attend to the 'whole child.' "
Earlier this month Mr. Kamras refused a $25,000 bonus and said his six-person leadership team won't ask for a raise or bonus until all 44 of the city's public schools meet the state's full accreditation standards. Currently, only 19 do.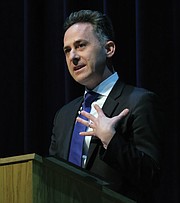 "SOL pass rates are just one part of accreditation," Mr. Kamras said. "The state also looks at growth, attendance, (high school) graduation rates and other factors" in determining a school's accreditation.
"We remain committed to doing everything necessary to achieve 100 percent accreditation," he said.
The Virginia Department of Education will announce school accreditation ratings in September.
Looking at SOL scores at the various schools in Richmond, Thomas Jefferson High School and Richmond Community High still have the highest pass rate of RPS' comprehensive high schools with an overall pass rate of 64 percent or more, while scores at the other high schools have dropped.
The overall scores at George Wythe High School dropped 40 percent, while Armstrong High School averaged a 30 percent drop, Huguenot High averaged a 27 percent drop, and John Marshall High averaged a 17.5 percent drop.
Open High School's overall scores are up 18 percent, while Franklin Military Academy's scores are up 6.6 percent.
In the city's middle schools, Albert H. Hill remained the highest achieving middle school with a 73 percent average pass rate. Martin Luther King Jr. Middle School saw a 3.9 percent decrease and is still behind its peers with an overall 25 percent pass rate.
As for the elementary schools, George Washington Carver Elementary School, which is working to recover from an SOL cheating scandal carried out by its former principal and uncovered by city and state officials last year, showed low student achievement on the 2018-19 SOL tests. Roughly, one in four students passed the history SOL; one in three passed the math SOL; one in five passed the science SOL; while one in three passed the reading test.
At Fairfield Court Elementary School, the overall pass rate was 21 percent this year, compared with 37 percent in 2017- 18.
On a positive note, students at Westover Hills Elementary School made the largest gains in science, with an SOL pass rate of 65 percent this year, up from a low 24 percent pass rate in 2017-18.
Across the state, student achievement was down slightly in three areas: 78 percent of students passed the reading SOL tests, compared with 79 percent in 2017-18; 76 percent passed the English writing SOL, compared with 78 percent last year; and 80 percent passed the history-social science SOL, compared with 84 percent in 2017-18.
Statewide, math SOL pass rates were up with the new mathematics test introduced during the spring. Eighty two percent of students statewide passed the math SOL, compared with 77 percent in 2017-18.
Science scores remained unchanged from last year, with 81 percent passing the science SOL statewide.