Gold Award in history
8/16/2019, 6 a.m.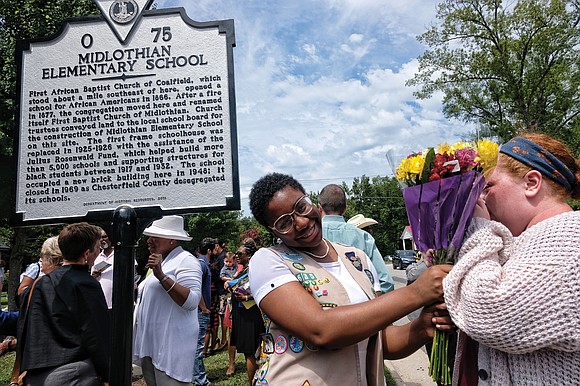 Deja Williams, left, of Midlothian Girl Scout Troop 635 accepts congratulatory flowers from her longtime friend, Jane McConville, after seeing her idea for a state historical highway marker acknowledging the history of the former Midlothian Elementary School come to fruition last Saturday in Chesterfield County.
The 17-year-old's idea for a marker grew out of her work with Audrey M. Ross, historian for First Baptist Church of Midlothian and a member of the Chesterfield Historical Society of Virginia's African-American History Committee. She learned about the roots of the school, which date back to 1866, when the church, located about a mile from the school building's current site on Westfield Road in Chesterfield, opened a school for African-Americans. Church trustees later conveyed land to the School Board for the construction of Midlothian Elementary School on the site.
The school served generations of African-American students from the communities of Brown Grove, Hallsboro, Midlothian, Mt. Nebo, Robious, Spring Creek and Winterpock, with the current brick structure built in 1948.
The school was closed in 1969 when Chesterfield County desegregated its schools. The building, renamed the Watkins Annex, is used by the Lifelong Learning Institute.
Deja, a student at Thomas Dale High School, received the Girl Scouts' highest achievement award, the Gold Award, for developing a project that will make a lasting impact on the community.
Deja, who was overcome by emotion following the ceremony, spoke at the event and helped unveil the marker.