Montgomery's churches part of city's 200-year history of slavery, civil rights
Adelle M. Banks/Religion News Service | 8/16/2019, 6 a.m.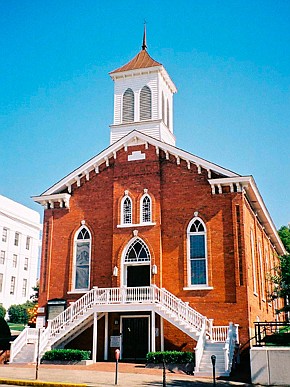 MONTGOMERY, Ala.- Connections between Christianity, Confederacy and civil rights — and the history of slavery — are in plain sight in Alabama's capital.
Dexter Avenue King Memorial Baptist Church is known for its most famous pastor, Dr. Martin Luther King Jr., but one of its early locations was once a slave pen.
St. John's Episcopal Church, where Confederacy President Jefferson Davis worshipped, is across the street from the building where Rosa Parks was tried after she refused to give up her bus seat to a white man.
And just beyond downtown, Old Ship African Methodist Episcopal Zion Church, a congregation that dates to before the end of slavery, sits across the street from the memorial that opened in 2018 to remember more than 4,400 lynching victims.
As the nation marks the 400th anniversary of the forced arrival of Africans in Virginia — and Alabama has its bicentennial — a walk through Montgomery's streets reveals the legacy of slavery in America.
"It is the cradle of the Confederacy and the birthplace of the modern Civil Rights Movement," said Kathy Dunn Jackson, volunteer historian of Old Ship AME Zion Church.
Religion sometimes played a role in the violence that followed slavery, as seen at the Equal Justice Initiative's National Memorial for Peace and Justice.
Amid the 800 6-foot steel columns memorializing those lynched from 1877 to 1950 is an example of a religious ceremony being cited as a reason to kill.
"Arthur St. Clair, a minister, was lynched in Hernando County, Fla., in 1877 for performing the wedding of a black man and white woman," reads a sign.
The memorial, on a 6-acre site, is described by its creators as "a sacred space for truth-telling and reflection about racial terrorism and its legacy."
About a mile away, the EJI's Legacy Museum, which traces history "from enslavement to mass incarceration," features holograms of black men, women and children held in pens singing spirituals like "Lord, How Come Me Here?" and speaking of missed loved ones from whom they have just been taken.
A sign points out that in 1860 Montgomery, there were more places for trading enslaved people than hotels and churches.
The current site of the Montgomery church where Dr. King pastored was purchased for $270 in 1879, and that spot also has ties to slavery — specifically the heart of the Confederacy in 1861.
Steve Murray, director of the Alabama Department of Archives & History, said the Capitol steps and that nearby church continued to be at the vanguard of major events a century after the start of the Civil War.
"At the bottom of those steps is where the Selma to Montgomery march culminated," he said. "You pack an awful lot of really significant American history into a few square blocks."