City finishes fiscal year with surplus
By the numbers
If Richmond City Council approves, retired city employees such as Elmer Seay and Daisy Weaver might receive a 1 percent increase in their city pensions — the first cost-of-living increase since 2008.
And three projects aimed at opening access to parts of James River Park, Brown's Island and other public property to people in wheelchairs, on crutches and using walkers could be fully funded.
The reason: City Hall expects to finish the 2019 fiscal year with a $15 million surplus, according to the fourth quarter financial report issued Aug. 15.

That's a complete reversal from three months ago when top city officials warned City Council of a looming $1.6 million deficit and asked for permission to tap a savings account reserved for emergencies to avoid a shortfall in the $735.8 million 2018-19 budget.
In late May, the council was told the deficit was an urgent matter and that a failure to support the administration's request to shift funds between departments and tap savings could leave some departments — most notably the Richmond Sheriff's Office — unable to meet payroll in the final month of the fiscal year that ended June 30. The council voted 6-3 to support the administration.
But as three council members predicted in rejecting the administration's assertion of a pending deficit, there's now more than enough unspent tax dollars — about 2 percent of the total budget — to cover the projected $6.2 million cost for the pension cost of living adjustment, the $963,000 needed to fully fund the three improvements for the disabled, to provide $1 million to shore up the city's pension fund and leave $7 million left over.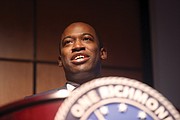 This has become a typical practice of Mayor Levar M. Stoney and his administration — forecast that the city is barely hanging on after nine months of the fiscal year, only to announce a significant surplus after the books close.
That practice is among the reasons Mayor Stoney was unable to sell his proposed increase in the real estate tax to City Council and the public during the debate over the current 2019-2020 budget that went into effect July 1.

Lincoln Saunders, the mayor's chief of staff, issued the quarterly report to the council. He attributed the brighter financial picture to "departmental staff engaging in practices that promote operational efficiencies" and other money-saving work. He also pointed to reductions in borrowing costs the city is paying due to its strong credit ratings.
However, Mr. Saunders did not mention that the third quarter financial report he issued in April projected city expenditures would reach $735.8 million by the end of the 2019 fiscal year. The latest report showed actual total fiscal year spending was held to $716.2 million, or $19 million less and $3.7 million below the amount the council budgeted for city spending for the 2019 fiscal year.
According to Mr. Saunders, Mayor Stoney now plans to ask City Council to support spending a portion of the surplus on the COLA, access projects and pension fund, although any use of surplus funds would need to wait until the budget surplus is confirmed by an annual audit due in November.
The remaining $7 million would be allocated under a formula the council put in place in December 2017 at the end of Mayor Stoney's first year in office.
That formula provides for putting half of any surplus into virtually untouchable savings accounts or a "rainy day" fund, allocating 40 percent to a maintenance reserve for sidewalks, streets and other capital improvements and providing 10 percent for council members to use for smaller, one-time district projects.
While the surplus appears to be good news, it also appears to add to the distrust between some council members and the city administration.
To Councilman Parker Agelasto, 5th District, who was among those who forecast a surplus amid the Stoney administration's gloomy deficit warnings, this is just another instance in which City Council has been denied reliable and accurate financial information.
In May, he labeled these kind of financial swings as "mismanagement." On Tuesday, he again expressed renewed disappointment that the administration is failing to be transparent on finances.
He noted that in May, Councilwoman Reva M. Trammell, 8th District, supported the administration's fund-shift proposal based on administration statements that employees might not get paid and trash might not get picked up if City Council failed to support the proposal. She said then she would be embarrassed at voting with the administration if it turned out the fiscal year ended with a significant surplus.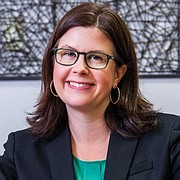 Councilwoman Kristen N. Larson, 4th District, who also voted against the May budget amendments that the administration proposed to prevent a deficit, is pleased that her proposal to restore funding to the access projects is moving forward.
In June, a council majority rejected her plan to restore full funding to those access projects if there was a surplus. At the time, the administration opposed the plan and told the council that the city was unlikely to finish the 2019 fiscal year with extra funds.
But "now that we have determined there is a fund balance (surplus), I'm happy to see that the accessibility projects will be funded. Increasing accessibility in our park system is incredibly important," Ms. Larson stated Tuesday.