Foundation to host summit for student athletes Aug. 23
8/23/2019, 6 a.m.
A foundation that seeks to aid Richmond high school student athletes to consider their futures after they graduate will host its third annual summit for boys in sports this weekend.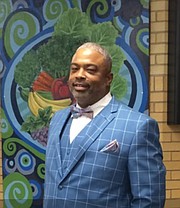 Offered at no charge, the TH-JAW Foundation's City Summit will be 3 to 5 p.m. Friday, Aug. 23, at Thomas Jefferson High School, according to David Jones Sr., founder and president of the nonprofit whose initials stand for the names of the city's five comprehensive high schools.
Mr. Jones, a former high school football player who operates his own construction firm, said the program would feature a panel discussing opportunities outside sports.
The speakers are to include business owners Kelvin Giles and Johnny Johnson; James Williams, general manager of an auto dealership; and Dr. Thaddeus Williamson, a college professor and former adviser to Mayor Levar M. Stoney, Mr. Jones said.
Mr. Jones said he started the summit because he is concerned that too many athletes are not preparing themselves for life and work after high school. He also hosts a separate summit for female athletes.
Using the example of a football team, he noted that "maybe five players on a team will be offered scholarships to continue to play in college, but what about the rest of the team? They need to start considering their options for the future, and that's what this summit seeks to assist them to do."
Details: Mr. Jones, (804) 386-2366.