Chavis graduates from NSU; next goal, NFL
Fred Jeter | 12/20/2019, 6 a.m.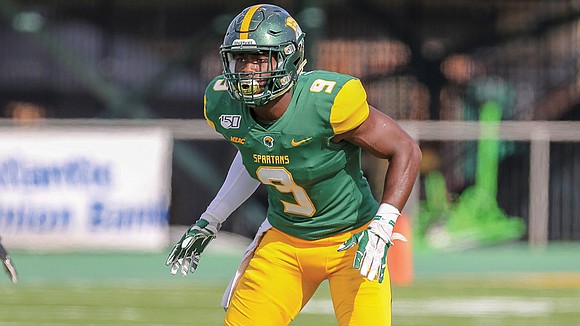 Norfolk State University football opponents can finally exhale.
After four years of tormenting the Spartans' opponents, Nigel Chavis has traded in his helmet and shoulder pads for a cap and gown.
The bone-rattling linebacker graduated from NSU Dec. 13 with a degree in business management.
That's apropos. He has been "giving the business" to quarterbacks and ball carriers ever since signing with NSU Coach Latrell Scott out of Richmond's Armstrong High School.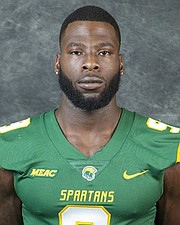 "Nigel has been a great four-year story for us. He is an ambassador for the city of Richmond," Coach Scott said. "The kid from 27th Street in Church Hill is a student athlete I'm extremely proud of."
No. 9 in Spartans green and gold became synonymous with tackles at the MEAC school.
The 6-foot-2, 225-pound defensive wrecking ball had 107 tackles this past season and a whopping 315 tackles for his career. That includes 35.5 tackles behind the line of scrimmage.
That's a whole lot of bumps, bruises and headaches he dealt out while alternating between defensive back and outside and middle linebacker.
Here's how he describes his defensive "mentality."
"See ball. Get the ball," he told the Free Press the day before his graduation. "Whoever's got the ball, I'm going to get him.
"As middle linebacker this year, I was the quarterback of the defense. I kept my motor running, trying to cause havoc," he said.
Awards followed all those gridiron take-downs.
Chavis was All-MEAC as a junior and senior and a Boxtorow All-American this past season.
At Armstrong High School, Chavis starred as a linebacker and running back under Coach Kedrick Moody. And while Wildcats football has come under hard times, Chavis was the lynchpin behind a solid squad that beat Varina High School 32-0 and lost to Highland Springs High School by only 35-30.
Chavis' doting mom has made sure fans take notice of her son on every level. Patricia Chavis' clanging cowbells
became a regular fixture at Spartans games, both at home and away.
"My mother is my heart and soul," Chavis said. "She has always expected a lot from me. When she first signed me up for youth league, she told me, 'Don't waste my money.' "
The fees were well spent and could lead to something beyond the cheers of NSU's Dick Price Stadium.
"We'll have Pro Day this spring and I'm definitely thinking of the next level," Chavis said.
He feels he has the size, speed, smarts and Spartan toughness to make an NFL roster.
The odds are long, but not impossible. A total of 21 Spartans have played in the NFL since 1964.
"But eventually I won't be playing football," Chavis conceded. "I'd like to return to Richmond and perhaps get into coaching, maybe even at Armstrong."
Chavis left 27th Street with high hopes but no assurances. When he returns, he'll have his arms full of pig-skin awards and, better yet, a college sheepskin in his pocket.
Carter "passes" the test
Former Highland Springs High School standout Juwon Carter enjoyed a banner junior season for Norfolk State University, earning second team All-MEAC honors.
The third-year starter passed for 2,632 yards and compiled 2,856 total yards. He completed 61 percent of his passes with 23 touchdowns.