Nativity scene shows Holy Family separated in cages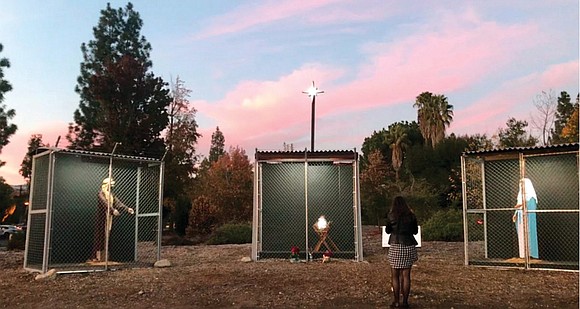 Father Stephen Josoma, pastor at St. Susanna Parish, said the church's Nativity scene was designed to make a splash.
"We're quite pleased that we're drawing people's attention to the principle issue of our generation," Father Josoma said. "If they are churchgoers, they need to be hearing about all this in church, and if not then, they need to ask their pastor to think about it."
For Claremont United Methodist, it's an annual tradition to display bold Nativity scenes. The church is located in a college town and is next to the Claremont School of Theology, an institution that author and theologian Diana Butler Bass described as one of the most liberal seminary schools.
Dr. Butler Bass imagined that the congregation members, who lean a little bit older, thought "they were speaking to their local neighborhood," which includes residents, students and visiting professors.
"Their neighborhood has known them for generations," said Dr. Butler Bass, who shared the Nativity photo on her Twitter profile.
Certain sections of the internet, however, are unfamiliar with the church and saw it very differently.
"The right wing saw it as a political attack on the Holy Family and on Christmas," she added.
The Claremont Nativity includes a statement that references the Trump administration's family separation policy. It notes the more than 5,400 children estimated to have been separated at the border since July 2017.
"Imagine Joseph and Mary separated at the border and Jesus, no older than 2, taken from his mother and placed behind the fences of a Border Patrol detention center," it reads.
This is not the first time Claremont United Methodist has made headlines for its Nativity scene.
In 2013, the church displayed a Nativity that portrayed a slumped Trayvon Martin in a black hoodie with blood pouring down his chest. The scene was titled, "A Child Is Born, a Son Is Given."
"There is no better time to reflect on gun violence than advent, when we celebrate the birth of Jesus," a message on the display read. "Jesus was born into a state of total vulnerability as an innocent, unarmed child during a time of great violence much like Trayvon Martin."
Rev. Morales believes news of this new installation took off after prominent theologians like Dr. Butler Bass shared the Nativity photo that their new lead pastor, the Rev. Karen Clark Ristine, posted on Facebook. In that post, Rev. Ristine said she was moved to tears by the Nativity and shared its theological statement.
The post has been shared more than 24,000 times.
Many people online have expressed anger and have been critical of the church's Nativity.
"Whoever built this lie will burn in hell for blasphemy," one Facebook commenter said.
"So wrong in every sense to politicize the birth of Christ!" another wrote.
Rev. Morales said Christians need to stand up and speak against injustices. She said the church also is working on translating the Nativity message into Spanish, adding that many Spanish-speakers have stopped by the church to see the display.
"It means something to feel that everybody doesn't hate you," she said.