As new George Mason Elementary takes shape, questions raised about old building
Cityscape: Slices of life and scenes in Richmond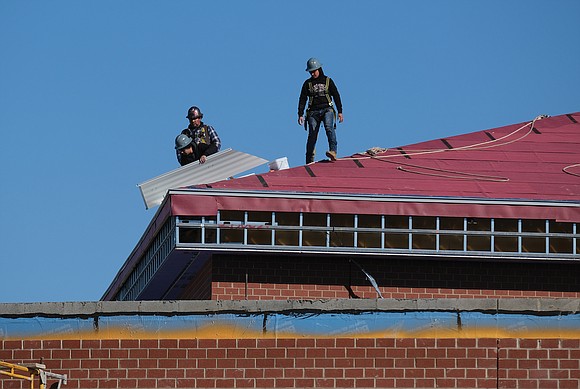 What should happen to the old George Mason Elementary School building?
That's the big question as a new $38.4 million George Mason Elementary building is being constructed on the grounds in the East End.
The Richmond Public Schools' administration has filed an appeal challenging the city Commission of Architectural Review's rejection in November of the plan to demolish the old school building.
But in an interesting turn of events, the Richmond School Board is considering possible alternatives for the building's future that may pump the brakes on demolition.
According to sources, discussions have centered on whether demolishing the building and saving the façade built in 1922 at a cost of $600,000 is the best choice. Suggestions include forming a collaboration between the city and RPS to turn the building over to private interests for renovation and conversion into another use.
Another possibility being considered is turning the old building over to the city Department of Parks, Recreation and Community Facilities for a community recreation center for East End children in collaboration with a nonprofit or for-profit organization.
Each alternative, sources said, has a significant price tag and is expected to be discussed at the School Board's Jan. 6 meeting, which will be held at George Mason Elementary, 813 N. 28th St.
The new school, which is to open next fall, is being built on a park adjacent to the older building and is part of a package construction deal that would create a new recreation area in the space once the old school building is torn down.
Sources said any alternative should fit within the construction project budget.
The oldest section of the school was among the first schools built for African-American students dating to the late 1800s.
An RPS administration email dated in early December stated the importance of the plan includes "providing students with necessary green space, while trying to meet Virginia Department of Education recommendations for play areas that best serve the community and the students. This means, as the new building is constructed, new tennis and basketball courts, a multi-use sport field and a playground will be built in the old George Mason footprint," according to the email.
School Board member Jonathan Young, 4th District, wants the board to review all options before the school administration takes any further steps.
"We have to have playgrounds and ball fields, not just for the more than 700 George Mason students, but also for the community," he said.