Love Stories
2/15/2019, 6 a.m.

Willie was drafted into the Army and we were married one year later, in 1968, against much parental objection. He promised to show me the world — and he did! We lived in Texas, Hawaii, Virginia, Germany and Kansas. We also visited many other countries.
During this time, I pursued my nursing career and we were blessed with a son and a daughter. We decided to settle in Richmond after he served 20 years on active duty. We have six grandchildren and one great-grandson. 
Willie's famous words are, "Fifty years and still in love!"
Some marriages are made in heaven. I know ours was ordained by God. He broke the mold when he made my husband — a true gentleman! 
The naysayers said it wouldn't last, yet we are still blessed to be in love after 50 years!
Dianna Crudup is a registered nurse at Bon Secours St. Mary's Hospital. Willie Crudup is a retired Army bandsman.
From Bible study to nightclub, friendship blossoms into love
Our love story began on a Wednesday evening in July 1988. We first met as college students at a Bible study at a professor's home in Blacksburg. At the conclusion of the Bible study, we briefly introduced ourselves, exchanged pleasantries and promptly departed separately with our respective friends. We didn't exchange numbers or any contact information.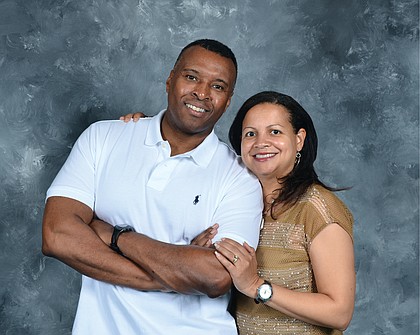 But later that same evening, we each decided to join another set of friends attending a party at Crickets, a local nightclub in downtown Blacksburg. When we first saw each other at the nightclub, we both shared the same thought: "What type of person goes to a Bible study with one set of friends and then goes to a nightclub with another set of friends on the same evening?"
We both paused and thought, "Well, we might have something in common."
Throughout an unimpressive evening at the nightclub, we quickly concluded that there wasn't any chance for a romantic relationship, but we could possibly be good friends. And that was the beginning of a great friendship.
For the next three years, we remained great advice-givers, close confidantes and just really good friends. We did a lot together as just friends. We studied, hung out with friends, shared our dreams, partied and even went on double dates.
Then in November 1991, we were both single. And at the risk of ruining a perfectly good friendship, we took the chance and decided to go on a date with each other.
It was an interesting process, dating such a close friend, a person who already knew most of your secrets, your quirks and even your pick-up lines.
Our strong friendship soon turned into strong love. We became engaged on May 30, 1992, and we were married on June 12, 1993. We're delighted and blessed to be celebrating more than 25 years of a great marriage and even more years of a truly wonderful friendship. While it wasn't love at first sight, it has definitely been the love of a lifetime.
Dr. Susan T. Gooden is interim dean and professor at the L. Douglas Wilder School of Government and Public Affairs at Virginia Commonwealth University. Dr. Basil I. Gooden, a former state secretary of agriculture and forestry, is a community and economic development consultant.