Superintendent Jason Kamras reviews his first year on job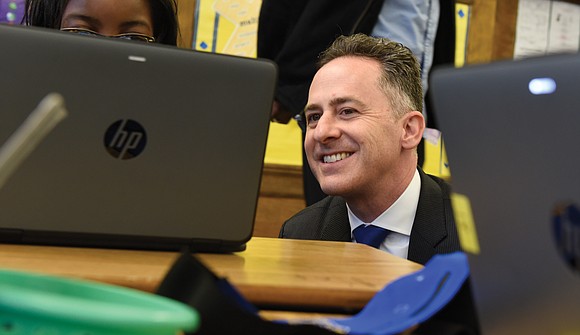 Third, we are beginning to see some movement on the equity front. I visited George Wythe High School and saw students in AP classes that were never offered before. The administration and board said every high school will have AP classes — calculus, Spanish, biology and literature. Now these things exist.
I have always said students will rise to the occasion if we give them the opportunity to do amazing things. You can't expect greatness of students if you don't ask for greatness. So many RPS children are facing so many challenges in their lives. We have to make sure that our schools are places where students can feel safe, loved and nurtured.
Dr. Ram Bhagat's Restorative Practices pilot program created mindful spaces at Albert Hill Middle School. When I visited their restorative circles, it was beautiful. I asked students, 'Why is this helpful?' The children said, 'Because we can share our feelings. We get to know each other better. It feels like a family.'
The entire world opens up for them when you create that kind of culture, and that's why the work Ram Bhagat is doing is indispensable to the RPS mission as a system. For me, that is an equity issue and so I am really, really happy about that.
RFP: What is the plan for renaming other schools named after Confederates?
Mr. Kamras: The next three schools where we are considering name changes are the three we are rebuilding — George Mason Elementary, E.S.H. Greene Elementary and the old Elkhardt Middle School site. After that, we will consider the next set of schools named after Confederate generals and others of that nature.
I am excited about the process because we have a lot of great local heroes, whether it's Henry Marsh, Oliver Hill, Barbara Johns or so many other individuals that we can honor.

RFP: In October, you proposed a 10 cent increase in the city's property tax rate to support RPS. Are you still behind that idea?
Mr. Kamras: I am agnostic about where the funding comes from for RPS. I believe in two things when it comes to funding and the 10 cent real estate tax increase is just one proposal. I know it is not popular. The second thing is, I put it out there to start a conversation. If there is another proposal that will help RPS to get revenue, I am all for it. I just want to make sure our students get everything that they deserve.
We can use the money we have much better and more efficiently, and that's why I am making cuts to the central office.
I also think our schools need more and if you spend time in our buildings, you would see that. If you talk to students who have lost family members to gun violence and you know the trauma they are dealing with, you would know we need more counselors and more social workers. If you talk to our nurses, some have resigned because of low salaries.