Superintendent Jason Kamras reviews his first year on job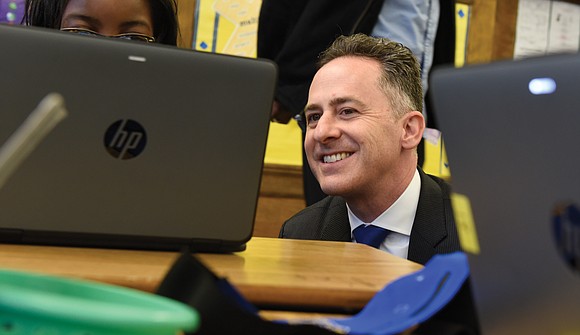 I will do everything I can to stretch every dollar we have to be efficient, cut redundant programs and slash things that are not making a difference for our students. However, I can't cut my way to greatness. We are going to need additional resources and where it comes from, I defer to the public on that.
RFP: Characterize your relationship with Mayor Levar M. Stoney.
Mr. Kamras: When I was named superintendent, Mayor Stoney called me and said, "Welcome to the city" and told me he really wanted to be a partner. I think we have developed a great relationship and I really appreciate his leadership.

Let's just take the meals tax. That was a really big move and as a result, less than a year later, we are starting construction of three new schools.
The African proverb says, "When the elephants fight, it is the grass that suffers." I believe students win when adults get along. I want to do everything I can to collaborate with the mayor and City Council, the School Board and state lawmakers because, if we do that, students win.
RFP: How important is classroom technology in bringing equity in academics?
Mr. Kamras: Technology is an equity issue because we have some schools with a lot of technology while other schools don't. The playing field needs to be leveled. More importantly, we need to make sure we are equipping all of our teachers with training so they can use classroom technology as best as they can.
What often happens is you put a smart board in a room and you expect everything to be different and better. That's nonsense. That's not how it works. As with anything, you have to take the appropriate time to help people use the tool. Technology is just a tool.

RFP: RPS has a growing Latino population. What are your plans for English as a second language support?
Mr. Kamras: We have started by adding more bilingual teachers, counselors and office staff. We need to do more. We have to do more than words to make sure that RPS has the support services to truly address their needs. We have a lot of families coming from Central America. Some students in high school coming from their homeland may only have a third- or fourth-grade education. They are coming to high school with a lack of education and don't speak English. That is one of the reasons RPS has such a large dropout rate.
We have to make sure that we are completely thinking differently about how we are supporting these students and families. That's why the "Equity and English Language Learners" are part of priority one in the strategic plan. We have to tear up the traditional way of doing high school for many of these children because it is just not working.
RFP: RPS has a majority of African-American students and few male teachers who look like them. How are you addressing that?
Mr. Kamras: One of the key actions the strategic plan is to launch an effort directly aimed at recruiting more African-American male teachers into RPS. I am delighted Rodney Robinson, our Teacher of the Year from Virgie Binford Education Center has been talking a lot about this. Hopefully, he will be a spokesperson for this recruiting effort.
RFP: How long do you want to stay in Richmond?
Mr. Kamras: My contract is for three and a half years, but I hope that I am still in Richmond with RPS for a long time. RPS didn't get where it was in a year or two or three, and it is going to take some time for us to achieve what we want to achieve. The strategic plan is a five-year plan, but that is not the end. There is more after that. I hope I can stay here for a really long time.