Area commemorations honoring Dr. Martin Luther King Jr.
1/18/2019, 6 a.m.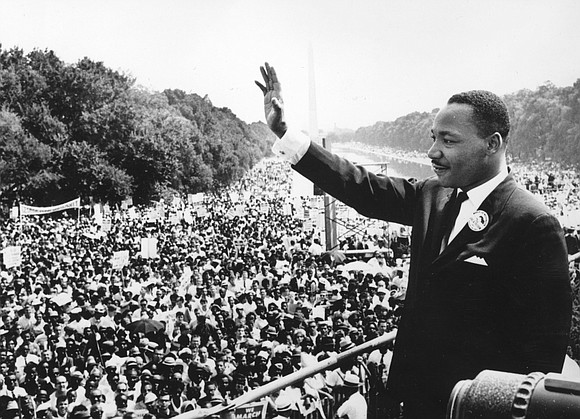 A host of speeches and events will take place starting this week honoring the legacy and memory of civil rights leader Dr. Martin Luther King Jr.
Dr. King would have turned 90 on Tuesday, Jan. 15. The state and nation will honor him with a holiday on Monday, Jan. 21, in which schools and government offices are closed. But for many, it will be a "day on," and not a day off, as volunteers undertake a variety of community service activities.
Here is a partial list of commemorations taking place in Metro Richmond:
Friday, Jan. 18, 7:30 a.m. 41st Annual Community Leaders Breakfast with keynote speaker Gov. Ralph S. Northam, sponsored by Virginia Union University. Richmond Marriott, 500 E. Broad St. Tickets and details: www.vuu.edu or (804) 342-3938.
Saturday, Jan. 19, 4 p.m. Star Fellowship Baptist Church birthday celebration for Dr. Martin Luther King Jr., speaker the Rev. Jamal Hayes of Abner Baptist Church in Glen Allen, at Star Fellowship Baptist Church, 2223 Keswick Ave., free. Details: Juanita Davis, (804) 441-1937.

Monday, Jan. 21, 10 a.m. Living the Dream Inc., formally Community Learning Week, holds its annual Mass Meeting, Sixth Baptist Church, 400 S. Addison St. Keynote speaker: Dr. Rodney Berry, superintendent of Nottoway County Public Schools. Details: Rev. Ricardo L. Brown, (804) 355-1044.
Monday, Jan. 21, 8:30 a.m. to 12:30 p.m. "In Pursuit of the Dream: Inspiring Patriotic, Purposeful and Service-Driven Lives," sponsored by the City of Richmond's Office on Volunteerism and the AmeriCorps program. Light refreshments, 8:30 a.m., followed by 9 a.m. remembrance ceremony with speaker, Mayor Levar M. Stoney, St. Elizabeth's Catholic Church, 2712 2nd Ave.; community service projects, 10:30 a.m., including cleanup projects at Oak Grove-Bellemeade Elementary School, Franklin Military Academy, Elkhardt-Thompson Middle School, Church Hill Academy, James River Park system, Bryan Park and with the Richmond Guardian Angels. Details: (804) 646-6528.
Monday, Jan. 21, 9 a.m. Dr. Martin Luther King Jr. cleanup and community celebration at Evergreen Cemetery, 50 Evergreen Road off Stony Run Parkway, sponsored by Enrichmond Foundation and the Virginia Outdoors Foundation. Kickoff at 9 a.m. with two hours of cleanup at the historic cemetery, followed by a community celebration at 11 a.m., featuring speakers and a performance by the Virginia Union University Choir. Free parking and shuttle bus rides provided from the Eastern Henrico Government Center, 3820 Nine Mile Road. Details: Jason McGarvey, (804) 314-9557; or Ted Maris-Wolf, (804) 234-3905, ext. 105.
Monday, Jan. 21, 11:30 a.m. 33rd annual Henrico celebration honoring Dr. Martin Luther King Jr., sponsored by the Henrico County Dr. Martin Luther King Jr. Commemoration Association, Henrico High School, 302 Azalea Ave. Keynote speaker: the Rev. Tyrone Nelson, pastor of Sixth Mount Zion Baptist Church and chairman of the Henrico County Board of Supervisors. Presentations of various awards.
Monday, Jan. 21, 6 p.m. 16th Annual Martin Luther King Jr. Celebration and Weekend of Service in Highland Park, sponsored by Boaz & Ruth. Volunteer community service projects Saturday, Jan. 19, through Monday, Jan. 21, leading up to ceremony at 6 p.m. Monday at Fifth Street Baptist Church, 2800 Third Ave. A candlelight walk will follow to The GRACE Center, 1302 Victor St., for refreshments. Details: Nikki Fiveash, (804) 329-4900, or nfiveash@boazandruth.com.