Federal panel selects redistricting plan for House of Delegates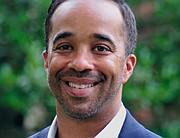 A federal three-judge panel announced Tuesday it has selected a redistricting plan to end illegal packing of African-American voters into 11 Virginia House of Delegate districts.
The overhaul selected by the court would leave two districts wholly within Richmond — the 69th District in South Side, which is represented by Delegate Betsy B. Carr, and the 71st District in North Side, now represented by Delegate Jeff M. Bourne.

The 70th District, represented by Delegate Delores L. McQuinn, would pick up Charles City County and reduce its city footprint. The 74th District, represented by Delegate Lamont Bagby, would shed a Richmond precinct along with Charles City County and fit wholly within Henrico County.
In the Petersburg area, the 63rd District, represented by Delegate Lashrecse D. Aird, would lose Hopewell and Prince George County and include Petersburg, all of Dinwiddie County and part of Chesterfield County.
Six other majority-African-American districts in Hampton Roads also would be revised.
Sprinting to the finish line, the federal judges ordered its redistricting expert, California university professor Bernard Grofman, to submit a corrected final plan that includes all 100 House districts by Tuesday, Jan. 29.
The panel plans to accept objections to the plan through Friday, Feb. 1, and then would issue its final order in the three-year-old suit. The goal: To have legal districts in place to be used in General Assembly elections this year for the House of Delegates and the 40-member state Senate. All 140 seats in the General Assembly are up for election in November, with political party primary elections typically scheduled for June.
Republicans now have a 51-seat majority in the House of Delegates following the 2017 elections that saw Democrats pick up 15 seats. Democrats currently hold 48 seats, with one vacant after one member won a special election to the state Senate.
So far, the major complaints about the plan are coming from House Republicans, who drew the plan in 2011 that secured overwhelming bipartisan support and approval from then-President Obama's Justice Department before being found unconstitutional.
At least six now heavily Republican districts would gain more voters likely to vote Democratic, according to an analysis from the Virginia Public Access Project.
For example, House Speaker Kirk Cox, a Republican from Colonial Heights, noted the plan calls for his 66th District to wind up with a 32 percent increase in Democratic-leaning voters, according to VPAP.
At the same time, Republican Delegate Chris Jones of Suffolk, chair of the budget-writing House Appropriations Committee, would see the 76th District he represents gain a 27 percent increase in Democratic-leaning voters, VPAP noted.
Speaker Cox called the plan "legally indefensible" as it "attempts to give Democrats an advantage at every turn."
"We are confident," he continued, "that the U.S. Supreme Court will not allow the remedial map the court appears to be on the way to adopting to stand. We will continue to fight for the 2011 redistricting plan."