Benjamin J. Lambert IV, financial advisor and civic leader, dies at 52
6/7/2019, 6 a.m. | Updated on 6/7/2019, 2:52 p.m.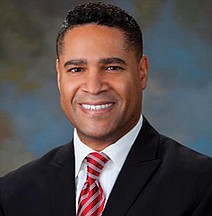 Benjamin J. Lambert IV, a member the prominent Lambert family whose many members have long contributed to the civic, social and political fabric of the Richmond area, died Monday, June 3, 2019, at his residence in the Midlothian section of Chesterfield County.
Mr. Lambert, the oldest son of the late former state Sen. Benjamin J. Lambert III and Carolyn M. Lambert, was a well-known financial advisor who held leadership posts in the Richmond Public Schools Foundation and other nonprofits.
He died from complications of prostate cancer, which he had battled for years. He was 52.
A graduate of Benedictine High School in Richmond and Morehouse College in Atlanta, Mr. Lambert spent his career as an investment advisor.
"He was a fun-loving, congenial man," said his mother. "Like his father, everyone was his friend. And that's how he acted with clients and why so many people, particularly senior citizens, relied on him."
Hundreds of people in the Richmond area counted on him for financial advice and money management during his more than 23-year career with a series of companies, including First Union Brokerage Services Banc of America Investment Services and SunTrust Investment Services.
Seeking to follow in his father's political footsteps, Mr. Lambert announced a run for the Richmond School Board at one point, but gave it up after Banc of America refused to allow him to seek public office, calling it a potential conflict of interest.
However, he found other ways to provide community service.
Mr. Lambert was a former chairman, vice chairman and treasurer of the RPS Foundation's board, a former chairman and treasurer of the Richmond Public Library Foundation and served seven years as a City Council appointee on the Richmond Public Library Board.
Mr. Lambert also served on the boards of St. Bridget Catholic School, the Richmond Boys Choir, Theatre IV, Team Up Richmond and the Virginia United Methodist Homes.
He also was a member of Omega Psi Phi Fraternity and St. Paul Catholic Church.
A visitation will be held from 3 to 6 p.m. Sunday, June 9, at Bliley Funeral Home's Chippenham location, 6900 Hull Street Road, where the Omega Psi Phi Fraternity will hold an Omega Service at 5:30 p.m. A funeral Mass will be held at 10:30 a.m. Monday, June 10, at Cathedral of the Sacred Heart, 823 Cathedral Place. A memorial service also will be held Sunday, June 23, but details were not available.
In addition to his mother, survivors include his wife, Mary Lambert; two children, Benjamin J. Lambert V and Melania Lambert, all of Midlothian; two brothers, Charles Lambert and David Lambert, both of Richmond, and a sister, Ann-Frances Lambert of Los Angeles.