Three candidates vying for 74th House District nomination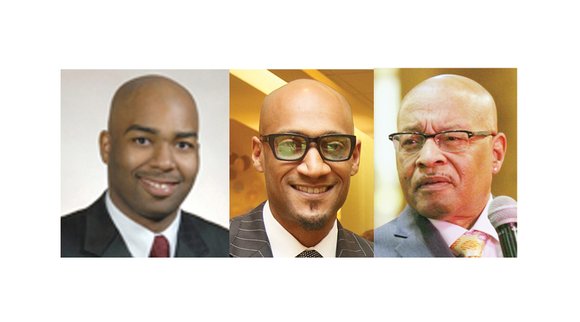 A three-way race is shaping up to replace former Henrico Delegate Joseph D. "Joe" Morrissey in the General Assembly.
David Lambert, son of the late Benjamin J. Lambert, a former state senator, officially became a candidate this week.
He announced Tuesday that he would challenge two other contenders — Henrico School Board member Lamont Bagby and the Rev. Leonidas B. "Lee" Young II.
All three will be seeking the Democratic nomination in the party's June 9 primary, which is expected to be decisive in determining who will occupy the 74th House District seat.
The district includes a single precinct in Richmond's North Side, most of Eastern Henrico County and all of Charles City County.
Mr. Morrissey quit the House seat Wednesday to run for a state Senate seat.
Mr. Bagby has emerged as the front-runner in terms of endorsements.

He picked up key support this week in Charles City County, including the endorsements of two Democrats who previously sought the House seat — retired labor leader Kevin J. Sullivan and Floyd H. Miles Sr., vice chairman of the Charles City County Board of Supervisors and a former delegate from the district.
Mr. Sullivan and Mr. Miles dueled with Mr. Bagby late last year for the Democratic nomination to challenge Mr. Morrissey, who won as an independent in a January special election.
Mr. Sullivan won the Democratic Party nod, but lost to Mr. Morrissey in the Jan. 13 special election. Mr. Sullivan initially indicated he planned to run in the June primary, but now has given his support to Mr. Bagby.
Mr. Bagby also gained the support of the three members of the Charles City County School Board.
Those added to the endorsements Mr. Bagby already has garnered from Henrico Democrats. For example, he has won the support of Frank J. Thornton, a 20-year member of the Henrico County Board of Supervisors who is seeking re-election, as well as Varina Supervisor Tyrone Nelson and Varina School Board member John Montgomery.
Several Richmond officials also have announced support for Mr. Bagby, including City Council President Michelle R. Mosby and three Richmond School Board members, Jeffrey M. Bourne, Kimberly B. Gray and Derik E. Jones, son of Mayor Dwight C. Jones.
Mr. Bagby also has gained the endorsement of at least 16 pastors of African-American churches, including the Rev. Roscoe D. Cooper III of Rising Mount Zion Baptist, the Rev. Michael Jones, founding pastor of Village of Faith Ministries, and the Rev. A. Lincoln James Jr., pastor of Trinity Baptist Church, which owns the fellowship center in Henrico where Mr. Lambert announced his bid.

Among the 13 other ministers backing Mr. Bagby are the Rev. Duane Hardy, pastor of Seven Pines Baptist Church and president of the Henrico Ministers Conference, and the Rev. Van Jones, president of the Charles City County Clergy Council.