Morrissey to endorse ex-mayor for delegate
Jeremy M. Lazarus | 3/11/2015, 8:52 a.m. | Updated on 3/18/2015, 8:52 a.m.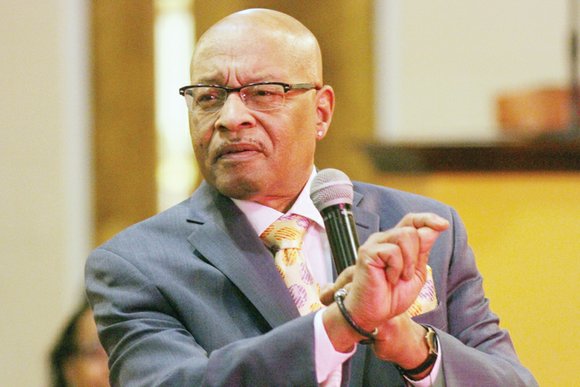 Delegate Joseph D. "Joe" Morrissey is once again a free man, and he's busy with political plans.
The first Virginia legislator to serve while in jail, he turned in his ankle bracelet and ended his term at the Henrico County Jail-East in New Kent County at 6 a.m. Tuesday, according to Sheriff Michael Wade.
He had been serving a six-month sentence on his misdemeanor conviction of contributing to the delinquency of a minor, but jail rules cut that to 90 days. He spent his nights in jails, but was able to serve at the General Assembly and practice law during the day while on work release.
"I feel great," he said Monday as he prepared to leave jail. "This hasn't hurt me. This hasn't bothered me. It has just made me stronger."
While Delegate Morrissey declined comment, there is speculation that he plans to challenge Petersburg Sen. Rosalyn R. Dance in the 16th Senate District that stretches from Richmond's East End to Petersburg and Hopewell.
First, however, he must be cleared of new felony charges involving perjury and forgery on which he is scheduled to be tried April 28 in Henrico Circuit Court. A felony conviction would bar him from public office.

Whatever happens, the Free Press has learned that Delegate Morrissey will be giving up his House seat and will back the Rev. Leonidas B. "Lee" Young II, a former Richmond mayor who served time in federal prison 15 years ago and who is seeking to make a comeback in politics after having his rights restored.
Sources said that Rev. Young, founder and pastor of New Kingdom Christian Ministries on North Side, is to formally announce his bid for the 74th House District seat at Delegate Morrissey's law office in Highland Springs next Tuesday, March 17.
The district includes Charles City County, the Fairfield and Varina districts in Henrico County and one precinct in Richmond's North Side where Rev. Young's church is located.
Asked about it this week, Delegate Morrissey only would say he has received calls from Rev. Young and two others who are expected to run for the 74th House seat. One, Lamont Bagby, a member of the Henrico School Board, announced his bid for election last week. The other is David Lambert, son of the late former Richmond Sen. Benjamin J. Lambert III.
Mr. Lambert earlier said he would run, but has yet to announce. That's also the case with farmer and retired labor leader Kevin J. Sullivan, who lost to Delegate Morrissey in a January special election. Mr. Sullivan also indicated he would try again this year, but has yet to publicly announce.
Rev. Young confirmed that he plans to run in the June primary for the Democratic nomination, but would not say when he would formally announce his candidacy.
The 60-year-old pastor said he is older and wiser than the man who went to prison in 1999 after pleading guilty to federal charges involving influence peddling, mail fraud and defrauding a parishioner. He served his sentence in federal prison until 2001.