Funeral service Friday for 9-year-old Markiya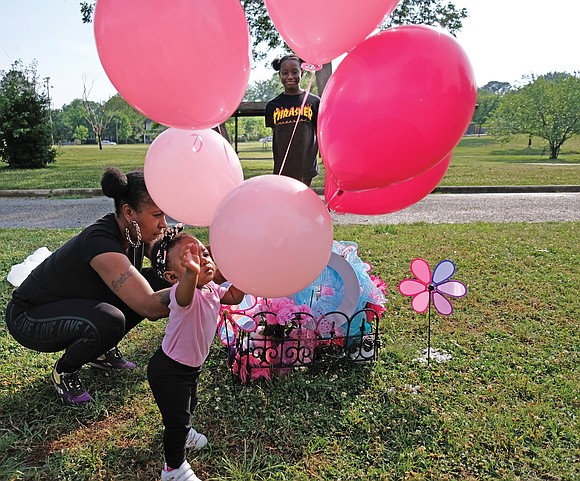 As the family of 9-year-old Markiya Dickson prepares to lay her to rest, Richmond Police are still searching this week for three men wanted in connection with her shooting death.
A funeral for the third-grader at Chesterfield County's Crestwood Elementary School will be held at noon Friday, June 7, at the Arthur Ashe Jr. Athletic Center, 3001 N. Arthur Ashe Blvd., next to The Diamond.
Markiya was shot and killed and 11-year-old Jaquez Moses was wounded on May 26 during a Memorial Holiday Weekend community cookout at Carter Jones Park in South Side. According to witnesses, gunshots rang out just before 7:23 p.m. from the area around the basketball court.
The park, located on Bainbridge Street, was crowded with children and families enjoying the event. The children were rushed in separate private vehicles to VCU Medical Center in Downtown, where Markiya died. Jaquez was treated and released from the hospital on May 28.
Markiya spent her first years in school at Redd Elementary School in Richmond. RPS officials said 22 of their students have been shot this academic year, with two deaths.
Community groups have held vigils calling for an end to the violence, as people from across the region have donated nearly $17,000 on a GoFundMe page to help with the Dickson family's funeral expenses. The family also is holding a vigil at 5:30 p.m. Thursday, June 6, at Carter Jones Park.

During a news conference last Friday, Richmond Police said they need the public's help in identifying three men wanted in connection with Markiya's death. All three are described as young black males, one who was wearing no shirt and a white towel or T-shirt on his head. He is believed to have shoulder-length braids or dreadlocks. The second suspect, said to have a medium build and short-cropped hair, was wearing a blue shirt and grey or dark pants. The third was wearing all dark clothing, police said.
Sgt. Michael Mocello, of the Major Crimes Division, said his team has received numerous tips. "But the information we're getting right now is all hearsay," he said. "I'm a little surprised that an eyewitness hasn't come forward.
"I need the people that know about this case, the people that saw what happened, the people that know these offenders' names — and I know you're out there — to do the right thing now and come forward to help me, to help the family," he said.
Police also said that Markiya was driven by her father, Mark Whitfield, to the hospital, where footage from video surveillance cameras show he began yelling at an unidentified man who approached him in the ambulance bay. Several police officers appear to step in to keep the two apart.
At least four Richmond Police officers and three VCU Police officers can be seen in the footage. Two of the Richmond officers placed Mr. Whitfield in handcuffs, while the other man appeared to walk away.
Police officials would not comment on the video, but noted that city officers, and not VCU Police as the Free Press reported last week, briefly handcuffed both men until tempers cooled.
Sgt. Mocello asks that anyone with photos, video or information about the shooting suspects are asked to contact Detective Benjamin Neifeld at benjamin.neifeld@richmondgov.com or (804) 646-3246. People also may contact Crime Stoppers at (804) 780-1000 or www.7801000.com and remain anonymous.