'Senseless'
Police, community leaders seek leads in shooting death of 9-year-old Markiya Dickson on Memorial Weekend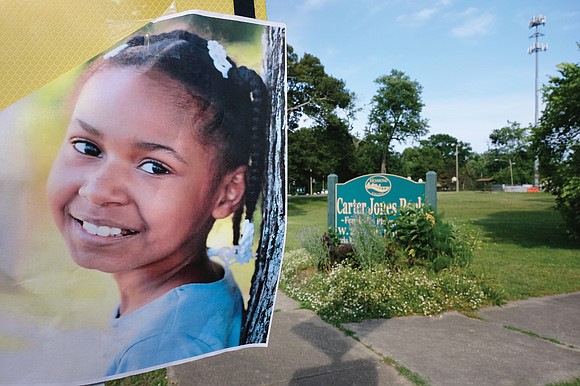 Police are still searching for the person or people who turned a Memorial Weekend community cookout into a tragedy Sunday when gunfire broke out at Carter Jones Park in South Side, killing 9-year-old Markiya Dickson and wounding 11-year-old Jaquez Moses.
The park on Bainbridge Street was crowded with children and families enjoying the food and weather when shots rang out near the basketball court just before 7:23 p.m.
"My baby (started running) and was trying to make it back to safety," said Ciara Dickson, the mother of the third-grader who lives in Chesterfield County.
"She was socializing at the community cookout. Someone — or a group of people — started shooting in another part of the park."
Organizers of the event quickly put Markiya and the wounded boy in a car and rushed them to VCU Medical Center in Downtown, where Markiya later died.
With bandages visible on his arm and under his shirt, Jaquez was released from the hospital to his father on Tuesday afternoon.
"I leave the house with three kids and I come back with two. This is not right," said a tearful Mrs. Dickson during an emotional television interview.
"She was my everything. A part of my heart is missing."
Charles Willis, executive director of United Communities Against Crime, said Tuesday evening that the two men who transported the bleeding youngsters were handcuffed by Virginia Commonwealth University Police when they reached the hospital. That account was confirmed by the men, who declined to give their names to the Free Press.
The men eventually were released, Mr. Willis said, adding he believes they are owed an apology by VCU authorities.
Counselors were on hand Tuesday morning at Crestwood Elementary School in Chesterfield County, where Markiya was a student, as well as at Redd Elementary in Richmond, where she had attended for the past two years and made many friends.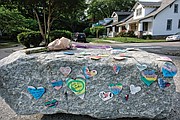 Family members were working Wednesday to plan funeral services, which had not been announced by the Free Press publishing deadline.
Community members and police expressed frustration that no one had come forward with information in the shooting that has left the families of both Markiya and Jaquez with tremendous emotional and financial burdens, including tremendous grief and unexpected trauma.
A GoFundMe page has been set up to help pay for Markiya's funeral expenses. The Virginia Victims Fund, a state-run program, can help both families with medical expenses and counseling.
"Every homicide is a tragedy, but it is especially tragic when it takes the life of someone who had so much to live for," Interim Police Chief William Smith said in a statement.
The department has received a number of tips, Chief Smith said. "But we need more. We need people to come forward and provide information, no matter how minor the detail."
Information, including photos and videos, can be sent anonymously to Crime Stoppers at (804) 780-1000 or www.7801000.com. The P3 Tips Crime Stoppers app for smartphones also may be used, police said.
People also may contact Detective Benjamin Neifeld in Richmond's Major Crimes Division at (804) 646-3246 or benjamin.neifeld@richmondgov.com.
"We are asking the community if you see something, say something," said the Rev. Robert A. Winfree, pastor of New Life Deliverance Tabernacle at 900 Decatur St., where more than 50 people talked about the need for the community to step up in the wake of the shooting and other crime in the area bordered by Commerce Road and Boston Avenue.
"This act was not by the people who are part of organized illegal activity," Rev. Winfree told the gathering. "The people who shot this young child are wannabes. Wannabes try to build a name for themselves without thinking of the consequences and repercussions of their actions impacting our community.
"This is not going to continue," he said. "Not in this community. Not here. Not now. Not ever."
Meanwhile, Maria Muhammad is organizing Walk of H.O.P.E., a rally and walk for the Richmond community to come together to stop the violence.
The walk and rally, set for 10 a.m. to 3 p.m. Saturday, June 29, will start at the Manchester Courthouse, 900 Hull St., and end at Carter Jones Park, where speakers, food, music, activities and more are planned.
While the event was scheduled long before Markiya's death, the tragedy "has fueled the fire for the community to have the rally and walk," Ms. Muhammad said. "This is the same park where we have begged the city to help with keeping the peace."
Sunday was the second homicide in May that claimed the life of a child. It marked Richmond's 25th murder this year, three more than at this time in 2018.
Seventeen-month-old Nariah Brown died May 10 from injuries sustained during a violent sexual assault at a South Richmond hotel. The toddler's mother, Aija Brown, said she left her daughter in the hotel room with a person she trusted.
Ms. Muhammad called Markiya's death "senseless."
"We may not understand the reason now for the pain and suffering of losing that baby girl, but I think it is a calling from a higher power to tell us we have to stand up, take control of our community and increase our efforts to reach our youths," Ms. Muhammad said.