Questions raised as council shifts money to help departments get through June 30
Richmond Sheriff Antionette V. Irving has gained the $2.13 million she needs this month to issue paychecks every two weeks to her deputies.
She also will be able to pay for medical care and prescription drugs for inmates at the Richmond Justice Center and buy janitorial supplies, uniforms and possibly some new computers.
That money — an addition to her budget — is now flowing after City Council voted 6-3 on May 28 to shift money from about 30 agencies of city government that appear likely to finish the year with a surplus to 12 departments that are on track to exceed their budgets before the end of the fiscal year on June 30. 
The vote also authorized Mayor Levar M. Stoney's administration, if needed, to withdraw $1.54 million from a city emergency savings account to prevent a deficit in the current 2018-19 fiscal year.
Council President Cynthia I. Newbille, concerned about the impact of departments running short on money, led the effort to approve $8.5 million in funding shifts proposed by the Stoney administration.
Other departments that received a financial shot in the arm include the Fire Department, which got $200,000 to pay for new equipment, and Public Works, which gained $1.6 million, mostly to pay for an increase in the collection cost for household recycling and to meet contractual obligations to the company that moves trash from city transfer stations to landfills.
Richmond Animal Care and Control, which had run out of money to pay for food and medicine for the animals it shelters, also gained nearly $186,000 to pay those costs in June.
Dr. Newbille, who represents the 7th District, was joined in approving the funding shift by City Council members Andreas D. Addison, 1st District; Chris A. Hilbert, 3rd District; Ellen F. Robertson, 6th District; Reva M. Trammell, 8th District; and Michael J. Jones, 9th District.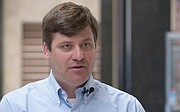 Such rebalancing of budgets is usually routine, but it was not routine to the three opponents, council members Parker C. Agelasto, 5th District; Kim B. Gray, 2nd District; and Kristen N. Larson, 4th District.
They are skeptical that the situation is as critical as portrayed, considering the administration has claimed repeatedly after nine months of a budget year that a deficit might be looming, only to report a surplus after the books close.
Mr. Agelasto said the decision to allow the administration to tap the emergency savings account created to provide funds after a disaster or larger deficit is a problem that a majority of the council is ignoring — mismanagement.
"This is not about revenue. We have plenty of revenue," Mr. Agelasto said.
He said the city government is spending without adequate controls. He said the council cannot provide adequate oversight with a split government in which there is an executive that is not hired by the governing body.
Instead, as in this case, council finds itself under the gun to act to solve the administration's problems without any ability to hold the executives responsible because they work for the mayor, he said.
As a result, "I have lost confidence in the ability of this administration and the Chief Administrative Officer Selena Cuffee-Glenn to manage city affairs," Mr. Agelasto said.
The city appears to be flush with revenue, according to the ordinance that the council passed. According to the document, the 2018-19 budget has grown by more than $10 million since City Council approved it in May 2018.
The council approved a $719.9 million budget, but before the ordinance passed, the administration reported the actual budget had increased to $727.2 million, a nearly $8 million jump resulting from income from grants and increased tax collections.
After the ordinance passed, the city's budget for 2018-19 was projected at $735.7 million, or a nearly $16 million increase. That includes $5.4 million from a surplus in the 2017-18 fiscal year that is being used to fill deficits in accounts in the City Attorney's Office that have built up over seven years.
Mr. Agelasto noted that the administration had plenty of time to deal with some of the financial issues.
For example, the administration has known since March 2018 that the Central Virginia Waste Management Authority was increasing its charge to Richmond for collection of household recycling as a result of the upheaval caused by China's decision to stop accepting most recycled materials.
But the administration never notified City Council that the CVWMA bill would increase nearly $600,000, from around $1.9 million in fiscal year 2017-18, to around $2.5 million in the current 2018-19 fiscal year. The only notice came in the budget's third quarter revision.
The administration also has known that the city Sheriff's Office was facing higher overtime costs and had previously noted the problem every three months in quarterly reports. But the administration — which controls and must propose any changes to an existing budget —never came forward with a proposal before the current ordinance was introduced.
"They could have done it at any time," Mr. Agelasto noted, including when council was considering how to deal with the surplus from the 2017-18 fiscal year, much of which the administration used to fatten the city's savings account.