Tuesday's primary elections feature Dance-Morrissey contest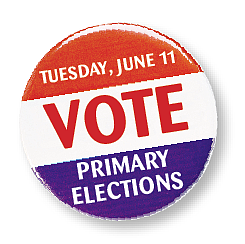 Voters on the east side of Richmond will play a big role next week in what has become one of the state's hottest primary contests.
That's the 16th Senate District Democratic primary between incumbent Rosalyn R. Dance of Petersburg and Joseph D. "Joe" Morrissey, a former delegate and twice disbarred attorney looking for an upset.

The standout contest is one among 16 state Senate primary contests set for Tuesday, June 11, in which voters will choose a major party nominee. Polls will be open from 6 a.m. to 7 p.m. in the districts. The majority of Richmond residents will only be able to watch but not participate.
Four of the Senate primary races will take place in the Richmond area. Along with the race in the 16th District, Democratic primary contests will take place in three Senate districts with Republican incumbents — the 10th District that includes western portions of Richmond and stretches to Powhatan County; the 11th District that is primarily in Chesterfield County; and the 12th District that includes Henrico and Hanover counties.
But those nomination races have not achieved the drama of the Dance-Morrissey contest in which the two rivals could not agree on terms for a debate. The final days of their primary campaigns have featured a slugfest over which candidate has the better record on protecting a woman's right to choose an abortion.
Endorsed by major pro-abortion groups, Sen. Dance has used mailers in seeking to paint Mr. Morrissey as a Republican on this issue, while Mr. Morrissey has charged that Sen. Dance is distorting his record while refusing to acknowledge her own anti-abortion votes.
The district includes Petersburg, Hopewell, Dinwiddie County and parts of Richmond and Chesterfield and Prince George counties.
A former Petersburg mayor and former delegate, Sen. Dance, 71, is seeking a new four year-term in the district she has represented since 2014, when she won a special election to succeed former Sen. Henry L. Marsh III.

About two-thirds of the district's voters are concentrated in the Richmond and Chesterfield sections, with the final third in Sen. Dance's strongest area, in and around Petersburg.
Sen. Dance, who has raised more than $260,000 and has the endorsement of significant elected officials such as U.S. Sen. Tim Kaine and Gov. Ralph S. Northam, said she is running because she wants "to continue to serve my constituents, to make a difference in our community and to improve the lives of families here."
A retired nurse and administrator at the Southside Virginia Training Center, Sen. Dance said evidence of her effectiveness includes the expansion of Medicaid health insurance, her success in gaining more funding to improve teacher pay and increase the number of school counselors and the successful effort to gain funding to build a new Central State Hospital.
To Sen. Dance, her opponent flouts the rules and lacks her proven work ethic in fashioning legislation that gets through the legislature.
"My challenger is great at headlines, snappy phrases and catchy slogans. He excels at running for office (his third campaign in four years), but not at doing the difficult day-to-day work to actually get laws passed and to work cooperatively in both the legislature and with local governments," Sen. Dance stated.
Mr. Morrissey, though, said his rival is minimizing his reputation for fighting for the underdog. "The same way I fought for my clients in the courtroom, I will fight for my constituents in the State House."
In Mr. Morrissey's view, Sen. Dance has not done enough in her nearly 27 years in public office and "the 16th Senate District needs a change." He argues he can do a better job in securing resources to stem the flight of businesses from Petersburg, halt the flooding from stormwater runoff and boost retention of teachers in inner-city schools.
A former commonwealth's attorney in Richmond, Mr. Morrissey, 61, is now a radio talk show host who is largely self-financing his campaign with $50,000. He has sought to overcome Sen. Dance's huge fundraising advantage with energetic door knocking that he began in January.
Counting on the personal touch, he hopes voters will overlook him losing his law license for a second time and other past indiscretions. "I believe in second chances. My past should not define my future," he said.

Meanwhile, in the other three districts, the rivals are striving to attract attention in what are expected to be low voter turnout affairs.
In the 10th Senate District, three people are vying to win the Democratic nomination and take on first-term incumbent Sen. Glen H. Sturtevant Jr., a former Richmond School Board member and attorney who eked out a 1,400-vote victory in 2015 over developer Dan Gecker in the district that includes Powhatan and portions of Chesterfield County, as well as a big swatch of the city.
Democrats seeking to take him on include attorney Eileen Bedell, who ran for Congress in 2016 and lost to Tea Party conservative David Brat in the 7th District; newcomer Ghazala Hashmi, director of J. Sargeant Reynolds Community College's Center for Excellence in Teaching & Learning; and Zachary Brown, a community organizer.

Meanwhile, in the 11th Senate District, newcomer Amanda Pohl, a nonprofit consultant, educator and former chaplain, and Wayne Powell, an attorney, are vying to challenge incumbent Republican Sen. Amanda Chase, a small business owner and radio talk show host, who recently faced criticism for her attacks on a Capitol Police officer who refused to do her bidding. Mr. Powell lost to Sen. Chase in 2012 in the majority Republican district that also includes Colonial Heights and Amelia County as well as a chunk of Chesterfield.
And in the 12th Senate District, Delegate Debra Rodman, an anthropology professor at Randolph-Macon College, is giving up her 73rd House District seat to seek the Democratic nomination. Also vying for the nomination is labor and immigration attorney Veena Lothe. Both want the opportunity to challenge first-term incumbent Sen. Siobhan Dunnavant, a physician.