Armstrong graduation figures better than initial report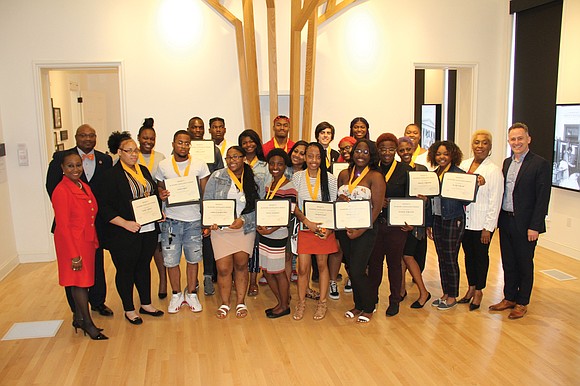 Armstrong High School is providing best evidence that more seniors are graduating from Richmond Public Schools this year than the public could have expected given the pessimistic projections released three weeks ago by Superintendent Jason Kamras and his staff.

Armstrong High was supposed to graduate only 108 seniors this year, according to a chart RPS Chief Academic Officer Tracy Epp presented to the Richmond School Board on May 20.
Ms. Epp's chart, which was published in the Free Press May 23-25 edition and widely distributed on social media, also showed that another 54 Armstrong seniors would have to attend summer school or return next year to complete requirements for a diploma.
But none of those figures proved to be correct when Armstrong held its graduation ceremony on Sunday, June 9, according to new information the Free Press obtained.
Armstrong actually awarded 155 diplomas at the ceremony — a 43 percent increase over the projection. In addition, only 21 of the 176 seniors were notified that they would have to attend summer school or return next year.

Graduation figures for other city schools that held ceremonies this week could not be obtained before Wednesday's Free Press publishing deadline. Ms. Epp is to present the School Board with updated figures next Monday, June 17.
However, the Armstrong numbers are raising concerns about the administration's ability to compile accurate data.
The huge differences forced Mr. Kamras and Ms. Epp to apologize for putting out incorrect information and creating what both described as anxiety for students, families and alumni of the school.
Mr. Kamras apologized on June 6 at a town hall meeting organized by the Richmond Branch NAACP, while Ms. Epp apologized at the June 3 School Board meeting.
Ms. Epp said she should have double-checked Armstrong's numbers before presenting them to the board. "Lesson learned," she told the board.
Accurate data is important given RPS' standing as having one of the lowest graduation rates in the state and a November audit by the state Department of Education showed that Richmond graduation rates have long been inflated.
At the June 3 School Board meeting, Ms. Epp also sought to justify the chart's figures, which she acknowledged deliberately low-balled the expected graduation figures for the city's high schools.
The chart projected only 810 students would receive diplomas from the nine schools with senior classes, or the lowest number since at least World War II. Another 280 seniors were projected to have to attend summer school or return next year, although the new numbers from Armstrong are calling that figure into question.
Ms. Epp said the chart was only supposed to project graduation numbers for those students actually attending a specific school. Ms. Epp admitted the graduation numbers she presented did not include students who were enrolled at Armstrong or one of the other comprehensive Richmond high schools, but who actually attended Maggie L. Walker or Appomattox Governor's School or completed course requirements through the state-approved virtual school.
Ms. Epp reported that she and her counseling staff needed to review the transcripts of potential graduates eight times before coming up with the projections she included in her report.
Questions are being raised about whether Ms. Epp used software available in the database of student records that can track student completion of state-required courses for graduation. The software is designed to simplify tracking.

But a high-placed source told the Free Press that no one in the RPS administration has ensured the tracking feature is being used.