Vanderbilt's Kumar Rocker throws no-hitter to land in NCAA record book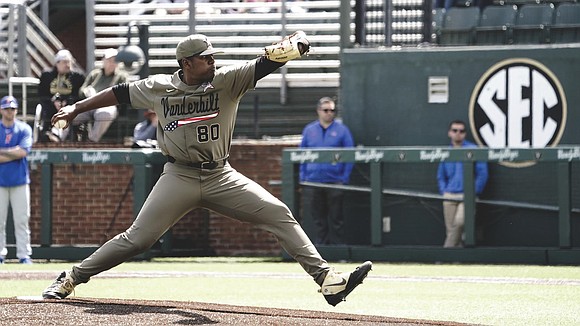 Kumar Rocker is the talk of college baseball as the NCAA World Series is set to begin in Omaha, Neb.
The Vanderbilt University freshman threw a no-hitter with 19 strikeouts in the Commodores' 3-0 win over Duke University on June 8 in the NCAA Super Regional in Nashville.
It was only the eighth no-hitter in NCAA Tournament history.
Rocker's fastball was timed as fast as 99 mph.
Rocker is a 6-foot-4, 225-pound, right-hander from Athens, Ga. His seasonal record is 10-5, with a 3.50 earned run average and 97 strikeouts in 87.1 innings.
Rocker's father is Tracy Rocker, a former football standout at Auburn University who later played with the Washington NFL team in 1989 and 1990.
The College World Series is June 15 through 25 at TD Ameritrade Park in Omaha.