Dementia and religion: Inside a church's Alzheimer's support group
Adelle M. Banks/Religion News Service | 6/21/2019, 6 a.m.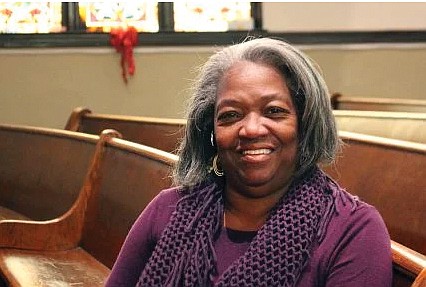 As one group member told a story, others nodded knowingly and made gentle rejoinders to show they empathized.
"It's hard to become the parent to your parent," one woman said.
Between prayers, they gave one another advice, such as turning on child locks in their cars and putting away bills before loved ones move them and can't remember where they are.
One person recalled a breakfast outing when a loved one with Alzheimer's started piling napkins high and moving other items off the table. Someone had a suggestion — passing around a card that reads, "Please Be Patient … The person with me is challenged with Alzheimer's. Thank you for understanding."
When they shared how they can be angry or wonder why God gave them this situation, a facilitator reminded the caregivers: "Job also questioned God."
An analysis by University of Exeter researchers of 1,283 caregivers of people with mild to moderate dementia found that it was important for them to have resources to aid their own physical and psychological health. Three-quarters of those interviewed said they were Christian and a fifth claimed no religion.
University of Louisville professor and geropsychologist Benjamin Mast, author of "Second Forgetting: Remembering the Power of the Gospel during Alzheimer's Disease," has researched what caregivers say they need from their faith communities.
"The Number One response that I got over and over again was presence," said Dr. Mast, who has had members of his family affected by Alzheimer's. "They would tell me things like, 'I would just love to have a phone call, either from the pastor or from somebody from the church, to check in on me and to see how I was doing.' What they were telling me was they didn't really need some elaborate intervention or something complicated, but they wanted to feel as if they had somebody to go with them on this journey."
That's why the Rev. Valerie Washington, pastor of Hughlett Temple African Methodist Episcopal Zion Church — across town from where the Southeast Christian group meets — started an Alzheimer's caregiver support group last August after a longtime church officer was diagnosed with dementia.
"He would be the first one to open the door, last one to leave," she said of the man in his 80s who continues to attend the predominantly black church regularly but can no longer run meetings due to his condition.
"I just wanted to be able to not only help him, but help my congregation as well as his family."
Rev. Washington, whose father had Alzheimer's and who has an aging congregation (a third are older than 70), said the group, which varies from five to a dozen, includes another member whose wife has Alzheimer's. Others are survivors whose loved ones had dementia.
"They're there to help the ones that are going through it to know what to either expect or what they went through," she said. "Most of them make the statement, 'If it wasn't for God, I wouldn't be able to go through this. I wouldn't be able to handle this.' "