Personality: David O. Harris Jr.
Spotlight on advocate who spearheaded effort to honor Arthur Ashe Jr.
6/21/2019, 6 a.m. | Updated on 6/21/2019, 9:45 a.m.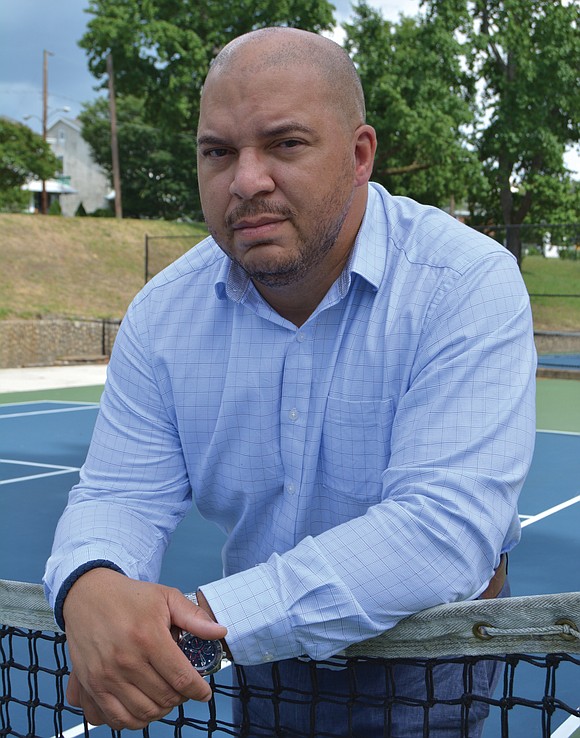 David O. Harris Jr. is the driving force behind renaming the Boulevard in Richmond for Arthur Ashe Jr., the late Richmond native who made his mark on the tennis court and on the world stage as a civil and human rights advocate and philanthropist.
Now the nephew of Mr. Ashe will see his dream come true this weekend. The 2.5-mile roadway that has been known for decades simply as the Boulevard will be dedicated this weekend as Arthur Ashe Jr. Boulevard.
Mr. Harris received permission from his aunt, Mr. Ashe's widow Jeanne Moutoussamy-Ashe, to undertake the renaming effort.
Mr. Harris will offer remarks during the official dedication and unveiling ceremony 11 a.m. Saturday, June 22, at the Virginia Museum of History & Culture, 428 N. Arthur Ashe Blvd. The ceremony is the capstone of a three-day, city-sponsored celebration to honor Mr. Ashe.
Early efforts to rename the Boulevard in Mr. Ashe's honor began in 1993, the year he died. But City Council struck down proposals to rename the street in 1993 and 2003. However, advocates remained undaunted. And the 45-year-old Mr. Harris, who spearheaded the latest efforts that started in early 2018, was successful.
"I was elated," Mr. Harris says, adding it was "relief and validation that Richmond was ready to do bigger and better things."

Mr. Ashe was born July 10, 1943, in Richmond and attended Maggie L. Walker High School. He began playing tennis on courts at Brookfield Park on North Side, where his father was the park ranger, and later at Battery Park. Brookfield Park was later razed to make way for Richmond's current Main Post Office.
Richmond's apartheid system of segregation prevented him from playing on the whites-only courts at Byrd Park, located at the southern end of what is now Arthur Ashe Boulevard.
Despite the obstacles, Mr. Ashe went on to become an international tennis champion, winning the men's single's title at the U.S. Open in 1968, the Australian Open in 1970 and Wimbledon in 1975. He remains the only black man to win the three titles.
He was the first African-American to selected to the U.S. Davis Cup Team, which he later coached.
Mr. Ashe died at age 49 on Feb. 6, 1993, from AIDS-related pneumonia. He contracted the disease from a blood transfusion during heart-bypass surgery in the 1980s. He held a news conference to announce his illness in 1992 and began working to educate and advocate on behalf of those with HIV and AIDS, setting up the Arthur Ashe Foundation for the Defeat of AIDS to boost research efforts.

President Bill Clinton posthumously awarded him the Presidential Medal of Freedom in June 1993 for his achievements on the court, his advocacy for civil and human rights in the United States and abroad, as well as his efforts on behalf of AIDS/HIV education and research.

Despite all of Mr. Ashe's plaudits and celebrity, Mr. Harris says he and his uncle had a normal familial relationship.
"It was a genuine relationship and very casual," Mr. Harris says. "It was like anyone being with their favorite uncle — sitting down to chat or calling to ask a question and getting some guidance.