Personality: David O. Harris Jr.
Spotlight on advocate who spearheaded effort to honor Arthur Ashe Jr.
6/21/2019, 6 a.m. | Updated on 6/21/2019, 9:45 a.m.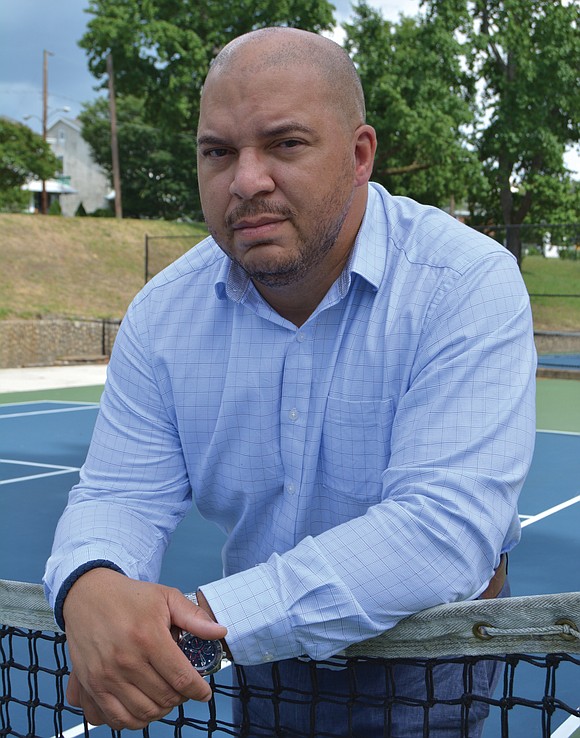 "My uncle and I did traditional things — going to the movies and sending each other gifts," Mr. Harris says. "He was an extension of my parents. My parents and the older generation taught us to be purposeful, cool and calm, as well as not to act on emotion or feeling," Mr. Harris says. "The world saw those family values through my uncle as he played on the global sports stage."
Mr. Harris says Mr. Ashe introduced him at age 9 to tennis during a visit to Florida, where Mr. Ashe lived later on. Mr. Harris grew to love the game and honed his skills at Battery Park in Richmond's North Side.
"My uncle sent me to the International Management Group tennis academy and I eventually played on Virginia Union University's tennis team on a scholarship," Mr. Harris says.

Although Ms. Harris admired his uncle's athletic accomplishments, he says, "I know him more from his body of work in civil rights, AIDS/HIV research paving the way for untainted blood supplies for transfusions, philanthropy and dedication to eradicate apartheid, which affected Africa as well as the world. He was a true example of an athlete turned global educator. Those things carried more weight than his accomplishments in sports."
As Richmond is poised to honor Mr. Ashe this weekend, Mr. Harris says the city "still has more work to do."
"Get involved and be inclusive," he says. "Voice your opinions in mindful ways so they can be recognized and heard."
Meet the man behind renaming Arthur Ashe Boulevard and this week's Personality, David O. Harris Jr.:
Date and place of birth: Sept. 2 in Richmond.
Current residence: Henrico County.
Education: Hermitage High School, Class of 1992; bachelor's in banking and finance, Virginia Union University.
Family: A stepson, Desmond Claytor, 26; and nephew of the late Arthur Ashe Jr.
Why Arthur Ashe Jr. should be honored in Richmond: My uncle is one of our greatest heroes. His legacy and work has stood the test of time. This is the prime opportunity for the Richmond community to permanently acknowledge his attributes, stature and accomplishments.
The things he was fighting for and encouraging to change we are still dealing with today. His body of work is still relevant and an example we should look at to move forward and improve our lifestyle.

Why is the Boulevard the right road to rename in Mr. Ashe's honor: From a historical standpoint, the Boulevard starts at Brookland Parkway and ends at Byrd Park, where my uncle was denied the opportunity to play tennis when he was young during segregation. The Boulevard, which has no name, extends through the middle of the city and is a gateway to Downtown.
Your role in getting this honor approved: I lobbied, had conversations, researched the cost of changing the name, getting the information to Richmond City Council, the Scott's Addition community organization and any other group supporting the effort. I made sure people were notified about what we were trying to do, as well as encouraged people to support us. We wanted to show the children of the city that we were able to change things and the right way to do it.