Mayor introduces measure to ban guns from city buildings, parks
Mayor Levar M. Stoney wants to ban guns from city buildings, parks, recreation centers and other community facilities.
Joining in the Democratic effort to make gun control an issue in the General Assembly elections in November, Mayor Stoney introduced legislation to City Council on Monday that would make it illegal for anyone to "carry any firearm" into city-owned spaces, except for police officers, city-hired security guards or military personnel who are on duty.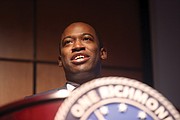 Mayor Stoney made it clear that the ban, if approved by City Council, could become effective only if the Republican-controlled General Assembly agrees to restore local authority to impose such a ban. That authority was stripped away from local governments nearly 20 years ago.
The mayor told reporters at a Monday news conference that he wants to get the legislation on the books so the city would be ready if the legislature lifts the ban. That is more likely to happen if Democrats regain the General Assembly majority in November when all 140 seats of the House of Delegates and state Senate are up for election.
Currently, police and building security have no authority to prevent anyone from openly carrying firearms onto city property, with or without a permit, or from preventing those with concealed carry permits from bringing in hidden weapons.
The introduction came just ahead of a special legislative session Gov. Ralph S. Northam called for Tuesday, July 9, to enable lawmakers to consider what he describes as "common sense" gun control bills in the wake of the May 31 massacre in Virginia Beach in which a veteran city employee shot to death 11 people in that city's government center before he was killed by police.
The governor also said other recent shootings factored into his call for a special session, including the death of 9-year-old Markiya Dickson of Chesterfield County, who was shot at a community cookout at Carter Jones Playground in South Richmond on Memorial Day Weekend.
An 11-year-old boy also was wounded in the shooting. No arrests have been made.
Republican House Speaker Kirk Cox has called the special session "a waste of time" as he anticipates virtually all the bills the governor will present will be killed in GOP-led committees just as they were during the most recent General Assembly session and the sessions before that.
The GOP currently has a three-vote majority in the House and a two-vote majority in the Senate, with Democrats hoping to win enough seats in the Nov. 5 election to take over one or both of the chambers.
Still, the unfettered ability for people to take their guns into most public spaces, other than churches, courthouses, airports and state buildings, prompted 9th District City Councilman Michael J. Jones to introduce a measure Monday to restore metal detectors at City Hall's four entrances.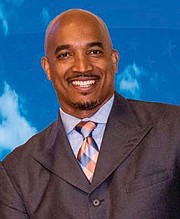 The measure, however, is seen as gaining little traction.
Richmond installed metal detectors during Calvin Jamison's tenure as city manager 16 years ago following another shooting spree in a government building. But they were removed under former Mayor L. Douglas Wilder in 2005 after being found to be an expensive waste of money. The city spent around $200,000 a year to staff the metal detectors, even though no one could halt anyone with a weapon from entering, and the detectors created entry lines.