Michigan's Bullock playing in College Baseball World Series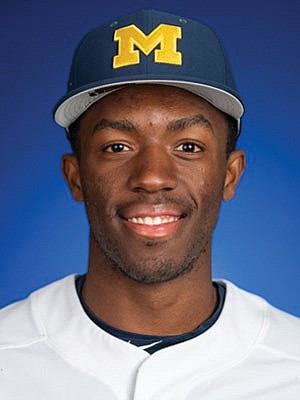 Christan Bullock is a prime example of the talent participating in the Metropolitan Junior Baseball League games.
Bullock, currently a left fielder for the College Baseball World Series finalist University of Michigan, starred in the 2014 MJBL Inner City Classic in Richmond. He was representing a Chicago-based team at the time.
With the intent of introducing inner-city athletes to the game, the MJBL Inner City Classic will return to Richmond this summer, July 30 through Aug. 4, at various diamonds around town.
Meanwhile, Bullock provides Richmonders with a rooting interest in the College World Series in Omaha, Neb. Wearing jersey No. 5, Bullock is hitting .280 this season for the Wolverines, with 13 stolen bases in 15 tries.
Michigan is playing Vanderbilt University in the best-of-three World Series finals.
While college baseball is an overwhelmingly white sport, both Michigan's and Vanderbilt's teams are well represented by African-American players. Michigan starts four African-American players and has seven on its roster, while Vanderbilt has seven African-American players on its roster.
According to the NCAA Demographics Database, 80 percent of Division I players are Caucasian and 6 percent are African-American. Division I coaches are 90 percent Caucasian, with African-Americans making up only 4 percent of coaches.