Stand by your plan
Mayor Levar M. Stoney pushes his proposed tax hikes despite opposition and criticism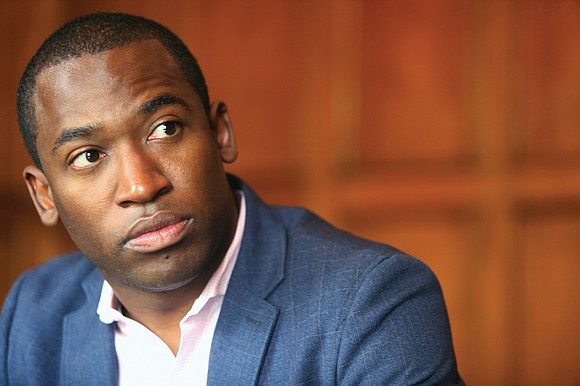 Behind the scenes, council members are getting untold numbers of emails and social media posts of opposition to the tax hike, and it appears the mayor would lose if the vote were taken at this point.
While some council members are still holding fire, only one member, 9th District Councilman Michael J. Jones, has jumped on board. He has called the mayor's plan to raise the property tax rate and impose a cigarette tax the only plan on the table to address "our horrible streets" and "our deplorable schools."
At least two council members, Ms. Trammell and 2nd District Councilwoman Kim B. Gray, are outright opponents.
1st District Councilman Andreas D. Addison also is opposed at this time. He has said that City Hall first must tighten its belt and pursue other options to address the budget priorities before increasing taxes.
Council Vice President Chris Hilbert, 3rd District, and Fourth District Councilwoman Kristen Larson also appear to be opposed to a big tax increase.
Three other members have not yet publicly stated a position — Council President Cynthia I. Newbille, 7th District, 6th District Councilwoman Ellen F. Robertson and 5th District Councilman Parker C. Agelasto.
However, both inside and outside of City Hall, the mayor's tax increase was viewed as being connected to his expected bid for re-election.
Including members of City Council, there is skepticism about pumping more money into Richmond Public Schools, which already has one of the biggest local education budgets in the state. They view the schools' strategic plan, Dreams4RVA, which has been touted by the School Board and Superintendent Jason Kamras, as nebulous and lacking any timelines or benchmarks for achieving results.
At the same time, there are concerns that the real reason for the tax increase is to ensure the mayor has revenue to pay for replacing the Richmond Coliseum, even though the plan for doing so has been put on hold. In his meeting with the Free Press, Mayor Stoney denied there is any connection between his budget proposal and the Downtown redevelopment plan.
At this point, no one is advancing a proposal to reduce the number of employees in city government. City Hall continues to operate despite having an estimated 500 vacant positions. Each reduction of 100 vacant positions would generate an estimated $6 million in payroll savings.
The mayor has rejected the idea of job cuts, saying city government is short-handed. And no one on City Council has advanced a plan to shift currently budgeted funds to other needs.